I met Christina at university in 1994 and it was love at first sight.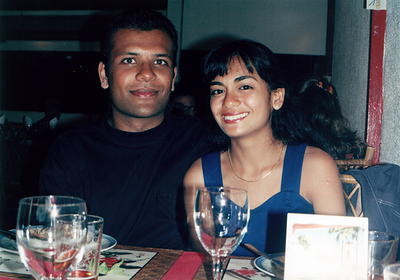 We were both scholarship holders doing our Diplôme d'études universitaires générales (DEUG) in Réunion Island. We had truly excellent times in Réunion Island and then France where we went for our Masters level studies. We came back to Mauritius in 1998 (PS: we don't regret coming back) and started working in January 1999.
We worked for one whole year and saved some money. We decided to marry in 2000 and I am proud to say that most of the expenses was born by us. Interestingly, and even if both of us are atheists, we did choose to wed religiously. Our Catholic and Hindu priests were aware of that but both told us "we agree to celebrate your wedding because you both are nice people." We couldn't agree more.
On 8 January 2000, we married: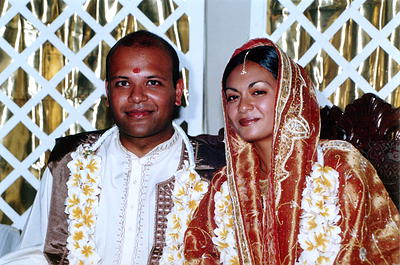 The general consensus is that the wedding ceremony was very interesting because it involved two priests. In fact, the Catholic priest and the Hindu pandit were alternating and explaining everything they were doing to the audience.
A few minutes after the wedding, we swapped our clothes for the party: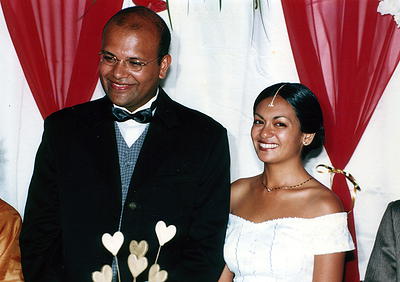 Believe it or not but the two above photos are only 1h apart. The party which followed would remain in every guest's memory. We had an excellent DJ and we had a great time eating, drinking and dancing. We have Hindu, Muslim, Créole and Chinese relatives and we were so happy to see all of them having fun while dancing together the séga, Bhojpuri and Bollywood songs as well as the latest Occidental hits.
This was ten years ago.
Today, 8 January 2010 marks our 10th wedding anniversary. And I have to say that a few things have changed. Two little things in fact: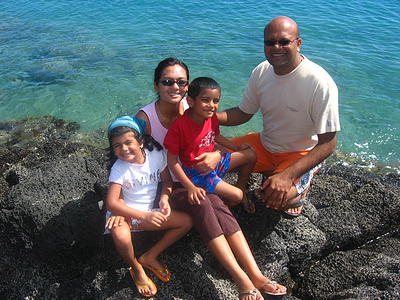 Happy 10th wedding anniversary, Christina. I love you.