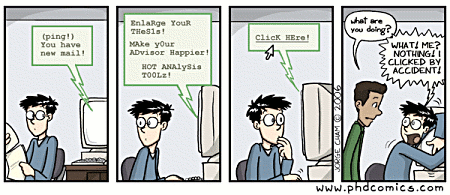 … is that many teachers and students "focus' has been for decades on developing […] documentation, while the true reasons for which they have been developed has slowly been forgotten, transforming them from means to ends". This is what Giancarlo Succi, author of Extreme Programming Explained says about what I really consider to be our most important failing.
Documentation is important for one reason only: to explain something!
Heck! It does not even need to be a paper report. It can perfectly be a wiki, a podcast or even the back of an envelope provided it is informative.
Teachers should tell students that trivialities like the number of pages and the typeface to be used are only trivialities (sic!). What is crucial is the exactness and precision of the contents! When I did my MPhil in Computer Science at the Ecole Normale Supérieure in Lyon in France, I was told to write a 30-pages thesis or risk penalties.
Now, students from the University (for example) routinely write (or are asked to write) 100-pages or even 200-pages reports with only one logical consequence. They have discovered the Joys of Plagiarism…
Do I blame those students? Of course not! We should not ask them to write that much!
(As an aside, all my students are doing oral presentations right now (exposés) and, except for a few groups, most presentations have the same failing: lots and lots of drivel but no real meat!)
Let's get back to basics!
(Comics courtesy of Piled Higher and Deeper)