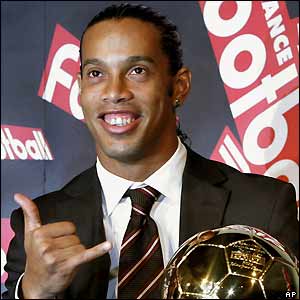 Ronaldinho has just won the Ballon d'Or bestowed by France Football. Essentially, Ronaldinho is the best football player in Europe according to journalists.
Like all football maniacs, I agree with that decision even though I wanted Liverpool's captain, Steven Gerrard, to win after his heroics during last Champions League.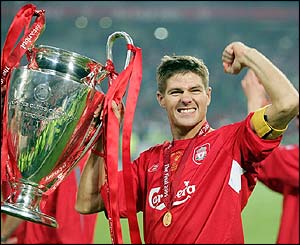 Here is the Dream Team selected by the same journalists: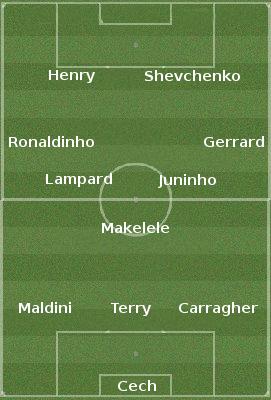 Now, there are some interesting facts about this selection:
Very few teams are represented

Four (Cech, Terry, Makelele and Lampard) from Chelsea,
Two (Carragher and Gerrard) from Liverpool,
Two (Maldini and Shevchenko) from Milan AC and
Ronaldinho from Barcelona, Juninho from Lyon and Henry from Arsenal.

Very few nationalities are represented

Four (Terry, Carragher, Lampard and Gerrard) are from England,
Two (Makelele and Henry) are from France,
Two (Ronaldinho and Juninho) are from Brazil and
Cech from the Czech Republic, Maldini from Italy and Shevchenko from Ukraine.
So, after some very deep thoughts, I conclude that next World-cup final will be England vs. Brazil :-)
(An update from Wikipedia: The 2006 FIFA World Cup was the 18th instance of the FIFA World Cup, the quadrennial international football world championship tournament. It was held from 9 June to 9 July 2006 in Germany, which won the right to host the event in July 2000. Teams representing 198 national football associations from all six populated continents participated in the qualification process which began in September 2003. Thirty-one teams qualified from this process, along with the host nation, Germany, for the finals tournament. The tournament was won by Italy, who claimed their fourth World Cup title. They defeated France 5–3 in a penalty shootout in the final, after extra time had finished in a 1–1 draw. Germany defeated Portugal 3–1 to finish third.)