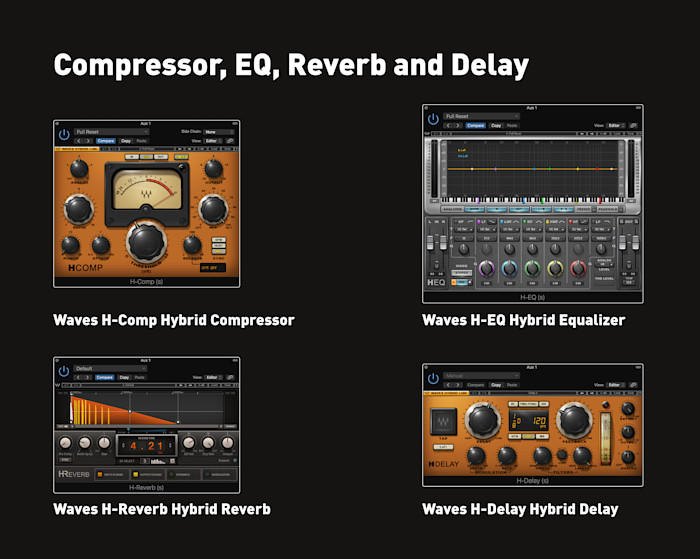 In my previous Bundles of Waves plugins post, I wrote that, even though I have tried a number of Waves audio plugins over the years, I have 9 favourites:
H-Comp Hybrid Compressor ($179)
H-EQ Hybrid Equalizer ($179)
H-Reverb Hybrid Reverb ($349)
H-Delay Hybrid Delay ($179)
Bass Rider ($99)
Vocal Rider ($249)
L2 Ultramaximizer ($299)
Dorrough Stereo ($199)
WLM Plus Loudness Meter ($399)
Unfortunately, buying them would cost me $2,131 which is waaaaayyyyy too expensive.
The Waves website
Fortunately, Waves regularly offer deals on its website. On 19 April 2017, I discover this incredible deal there. All prices are slashed: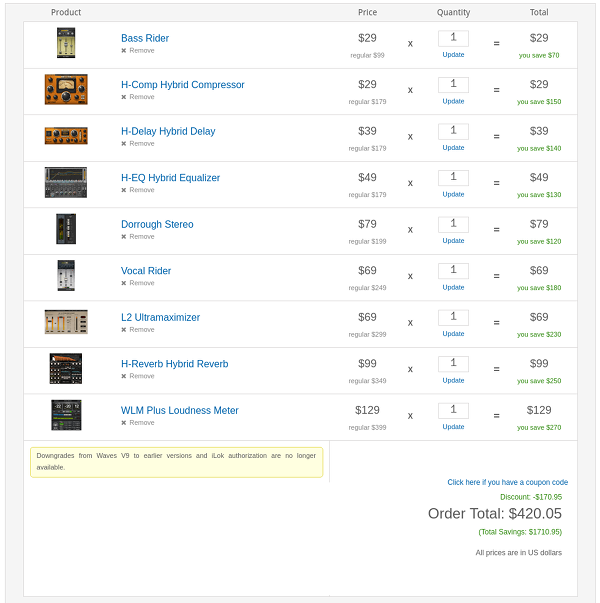 My favoured 9 plugins would today cost $420.05 (Rs 14,865) instead of $2131 (regular price). This is a massive 80% discount!!! But it is still a bit expensive for me. I decided to wait a bit.
Cyber Monday Deal
On 29 November 2017, I found out about the massive Cyber Monday Deal, still on Waves' website: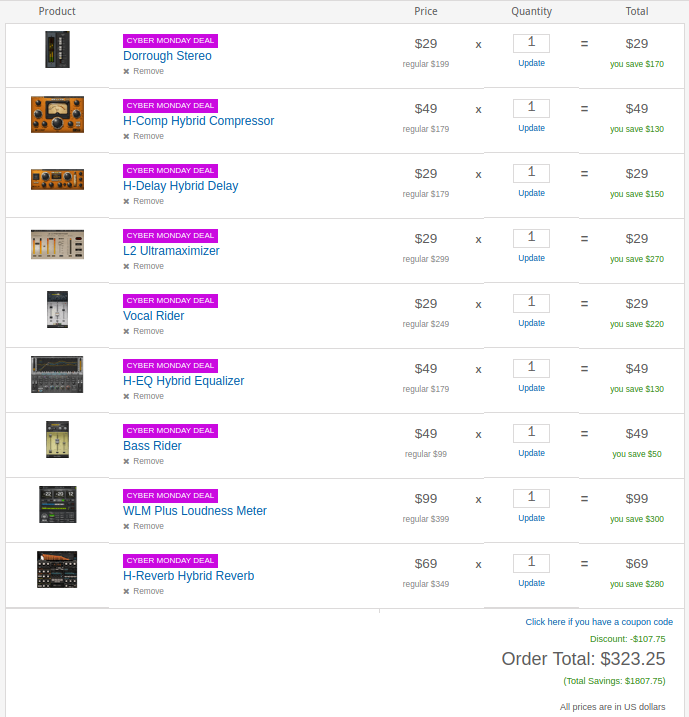 There is now a phenomenal discount of $1807.75 off the regular price. My 9 favorites today only cost $323.25 (Rs 11298.23). Still a bit expensive. Skipped again.
Plugin Discounts
On 19 June 2018, I finally discover that a lot of people buy Waves plugins from Plugin Discounts which offers some of the best deals on the planet. I take the decision to always use such websites in the future and to only buy plugins if they are less or equal to $29 each. Here is what I finally bought today: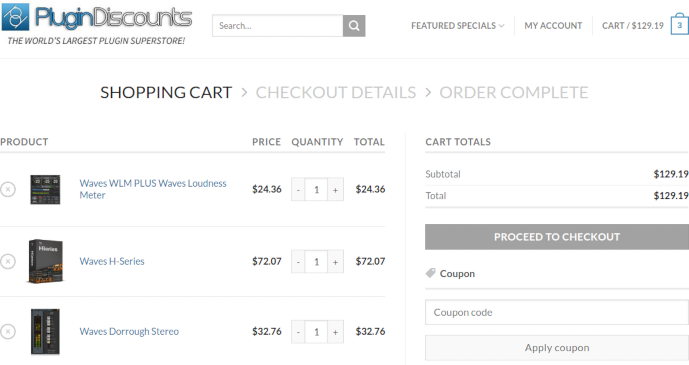 I got the Waves WLM Plus Loudness Meter at $24.36 (94% discount, which is amazing!), the Waves Dorrough Stereo Meter at $32.76 (which is more than $29 I know but which I had to get in my first Waves purchase ever because I am so reliant on it when mixing, 84% discount) and the Waves H-Series consisting of H-Reverb, H-Delay, H-EQ and H-Comp. The bundle cost me $72.07 which means that each individual plugin is less then $29 and the discount is a staggering 92%. In total, I paid $129.19 (Rs 4515.45) for 6 plugins.
What remains now is the L2 Ultramaximizer which I use on my main bus to make sure that there is no clipping. Right now, I am quite far from making final mixes or mastering so I can wait a bit for the L2 to become available, either on Waves' website or at Plugin Discounts, at $29. Right now, it is available at $69 which is too much.
As for Vocal and Bass Rider, I can wait as I am not recording vocals or bass these days. Only electronic sounds, baby ;-)