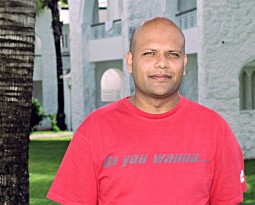 Hi, I am Avinash Meetoo and I am happy to welcome you here.
I am married to Christina and we have two wonderful kids, Kyan & Anya. In case you are wondering, Noulakaz means "our home" in my native language, Kreol Morisien. I've been blogging since March 2004.
I am the Director of Knowledge Seven, a Linux, Mobile and Web Agency in Mauritius.
I am a Computer Scientist and also an amateur photographer and musician. I use a OnePlus 7T smartphone, Fedora Linux on my desktop and Debian Linux on my servers, an Apple Mac mini, an iMac and a MacBook Air and a lot of open source software.
I am well known in geekland as the founder of the Linux User Group of Mauritius. Consequently, I am regularly invited to participate in Linux-related activities in Mauritius where people expect me to give presentations and lectures… Find a few of my presentations in OpenOffice.org Impress and/or Open Document format here.
I am a Red Hat Certified Engineer (RHCE).
How to contact me
Have fun reading my weblog!
Privacy policy
The privacy of visitors to noulakaz.net is important to me.
Like most other websites, I collect and use the data contained in log files. I do use cookies to store information, such as your personal preferences when you visit my blog.
To support my weblog, I also use third party advertisements. Google, as a third party vendor, uses cookies and web beacons to serve ads on my blog. Google also uses DART cookie to enable it to serve ads to visitors based on their previous visits to my blog and other sites on the Internet.
You can choose to disable or selectively turn off the cookies in your browser settings or by managing security preferences. You can also opt out of the use of the DART cookie by visiting the Google ad and content network privacy policy page. However, this can affect how you are able to interact with noulakaz.net as well as other websites.