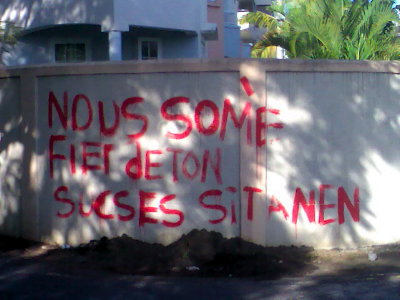 Found this in Quatre-Bornes while driving to work today… Where do I begin?
First, this is an eyesore. It hurts my senses so much that I felt compelled to get off my car, take a photo and blog on it.
Secondly, the one who has written this is an illiterate. Come on. "Nous Somè Fier Deton Sucses Sitanen". He (must be a he!) cannot even get Sithanen right! Stupid guy!
Thirdly, what is the objective of that message? If the perpetrator thinks that this message will flatter Sithanen then he is wrong. This kind of stupid message can only tarnish the image of Sithanen according to me as it makes me associate the current Minister of Finance with a bunch of illiterate painters… and nothing more.