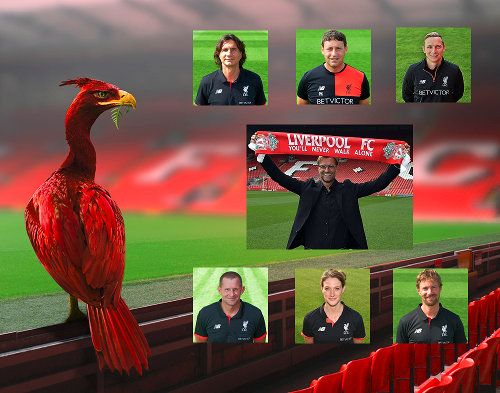 Here are the 7 of the most important people in the Liverpool first-team coaching staff:
Jürgen Klopp (holding the Liverpool scarf)
Born on 16 June 1967 in Stuttgart, Germany, Jürgen became the Manager of Liverpool in October 2015. Since then, Liverpool has adopted the Gegenpressing philosophy of playing "characterized by high-intensity running and pressing, a high-line across the pitch and counter-attacking football on the break."
And now for the others, top row first, from left to right.
Zeljko Buvac
Born on 13 September 1961 in what is now Bosnia and Herzegovina, Zeljko is the First Assistant Coach which essentially means that he is the assistant of Jürgen Klopp, who refers him as "The brain" of the backroom staff.
Peter Krawietz
Peter is the Second Assistant Coach of Liverpool. Born on 31 December 1971 in Mainz, Germany, Peter excels in scouting and match analysis. Jürgen calls him "The Eye" of his staff.
Pepijn Lijnders
Born on 24 January 1983 in Venray, Netherlands, Pepijn is the First-team Development Coach. His job is to "assist Jürgen to develop a recognisable Liverpool FC style but also give young talent the chance to develop to first-team standards." Jürgen considers Pepijn as part of "The Brain".
John Achterberg
John is the First-team Goalkeeping Coach of Liverpool. Born in Utrecht, Netherlands on 8 July 1971, John was a former goalkeeper. According to Jürgen, John has the ability to be "a goalkeeper coach 24 hours a day" and "if you want to talk to him about anything [other than goalkeeping], he can lead every conversation in a goalkeeping direction".
Mona Nemmer
Born around 1985 in Germany (I couldn't find her exact birth date…), Mona is the Head of Nutrition at Liverpool. Quoting her, "I take care of the chefs, the projects, what quality of product we are buying, which components can we put on the menus depending on whether it is matchday minus one, matchday or what can be served on the bus after a game. Then it's about when will it be eaten and what will be the last meal before a match." She also adds: "Some players like to cook for themselves, some like to take away a packed bag with food in, but here we like to react individually. If the player wants a cooking lesson, or their wives or girlfriends do, we are free in the sense to help them with whatever they need." She also says: "Football is difficult sport because on the one hand it is about endurance, but on the other it is strength, so I always try to update my knowledge […]". Jürgen says that "Mona is the Heart and Soul" of the backroom staff.
Andreas Kornmayer
Andreas is the Head of Fitness and Conditioning. Born on 21 September 1974 in Munich, Germany, Andreas is the "drill sergeant" of Liverpool according to Jürgen. "He needs to be the bad boy from time to time because players don't like running".
This is quite an interesting backroom team: 4 from Germany, 2 from Holland and 1 from Bosnia and Herzegovina. This is very different from previous staff which, initially, were mostly from Great Britain and then Spain.
Kind of a very precise German piece of engineering with, of course, a "cool madman" at the steering wheel. I love it.