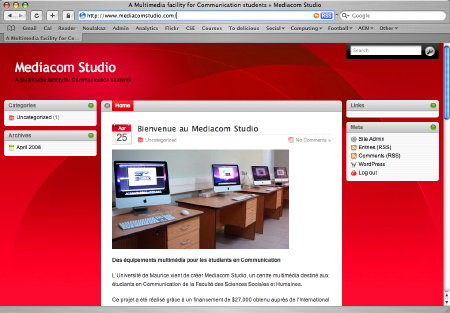 I am happy to announce that the Mediacom Studio website, www.mediacomstudio.com, has just been created by Christina and myself.
Mediacom Studio is a state-of-the-art audio and video production facility for Communication Studies students at the University of Mauritius. The studio will be fully operational for the 2008-2009 academic year. The studio has been funded by one agency of the UNESCO to promote the development of professional journalism in Mauritius.
The project was conceived by Christina and was approved by the UNESCO in 2007.
My contribution to the whole project was to help Christina select the equipment to acquire for the studio. This was a tough exercise as we were constrained by the budget and what equipment we could order in Mauritius. Nevertheless, we managed to come up with a very balanced and functionally rich list of equipment in my opinion:
Apple iMac computers with Leopard, iLife '08 and iWork '08
Panasonic HDC-SD5 HD camcorders with tripod and lighting kit
Olympus WS-300M audio recorders with external microphone
Sennheiser PC151 noise canceling headsets with microphone
Initially, the students will use iMovie '08 for video editing. This is what I use at home and I find it excellent for beginners. We have also acquired one license of Final Cut Express for those students who want to use a more professional video editing software.
For viewing their creations, the students will be able to transfer their rendered files to an Apple TV connected to a Philips LCD TV. Additionally, they'll be able to post their movies online on www.mediacomstudio.com for discerning people like you to enjoy…
Phew.