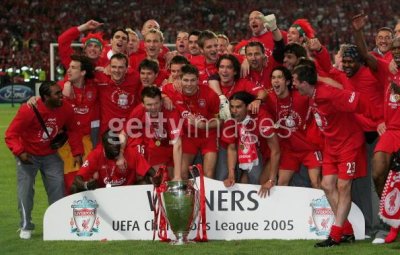 Liverpool wins the Champions League final on penalties against AC Milan after the most dramatic (and, dare I say, incredible) comback in the history of this competition.
I must agree with Liverpool's official website. This match was "Amazing, astounding, awe-inspiring, breathtaking, extraordinary, hair-raising, heart-stirring, magnificent, marvellous, miraculous, moving, overwhelming spectacular, spine-tingling, striking, stunning, stupefying, stupendous, wonderful."
By the end of the first half, Liverpool was trailing Milan AC by 3-0 !!! Goals from Maldini (1′) and Crespo (39′, 44′) had already spoilt the party. Actually, the group of people I had invited home to watch the match left at that time. Everyone (except me, of course) thought that Milan AC had already won the match.
I had a gut feeling that something special was going to happen. I was in no way stressed.
At the beginning of the second half, Hamann was substituted for Finnan who was injured. Liverpool switched to a 3 men defense (with Traore, Hyypia and Carragher). Hamann and Xabi Alonso controlled the midfield while Gerrard was allowed to roam behind the attackers. And the match completely changed !
Liverpool scored 3 goals in 6 minutes, Gerrard (54′), Ã…Â micer (56′) and Xabi Alonso (60′). Suddenly, it was 3-3 :-)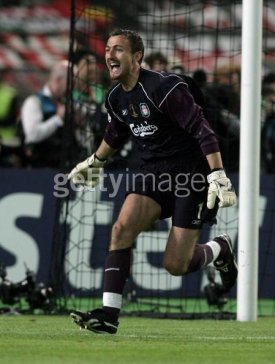 The match went down to penalties after a fruitless extra-time with Steven Gerrard playing as a (perfectly adequate) right fullback to help the defense.
And owing to Dudek's magic (a la Grobbellar) during the penalties, Liverpool won its 5th Champions League Cup !
The Cup is now our's to keep.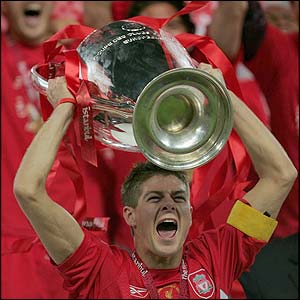 Well done lads :-)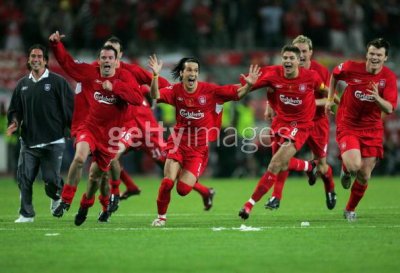 (Images courtesy GettyImages and BBC Sports)