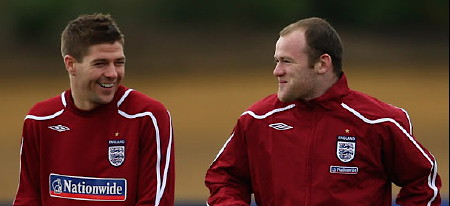 As you all know, the World Cup is starting in a few weeks in South Africa. I spent a few minutes today identifying some world class players from popular teams and this is what I found out.
Spain
According to me, Spain has the quality to win the World Cup: the goalkeepers, midfielders and strikers are fantastic even though the defense is not as good as the rest. David Villa and Fernando Torres play excellently together but, for me, Andrés Iniesta will be the key player.
Iker Casillas
Pepe Reina
Sergio Ramos
Xabi Alonso
Cesc Fabregas
Xavi
Andrés Iniesta
David Villa
Fernando Torres
Brazil
Brazil has a lot of talented players but not as many as the other top teams. Alves is arguably the best right wingback in the world and, well, Kaká is magic (most of the time.) Most pundits say that Brazil will play in the final because Dunga, the coach, has managed to build a very fluid team using innovative tactics.
Argentina
A lot of people have already discounted Argentina but I'm not so sure. Mascherano is a formidable defensive midfielder and captain of the team (yes, I know, he gets booked too many times… but he is just being like Roy Keane) who can protect and let Messi, Agüero, Higuaín and Tévez do their usual magical stuff in front.
Javier Mascherano
Sergio Agüero
Gonzalo Higuaín
Lionel Messi
Carlos Tévez
England
England has crap goalkeepers and will not win the World Cup… But, of course, being Mauritian, I would like England to go as far as possible in the tournament. Maybe England has a slight slight chance of winning if and only if (i) Rooney, who is the best English player this year, stays fit and (ii) Gerrard rediscovers his potency. Interesting how England's future lies in the hands of two Scousers.
John Terry
Steven Gerrard
Frank Lampard
Wayne Rooney
Portugal
Can Ronaldo, who is the best player in the world, win the World Cup by himself? No. But he will try nevertheless.
The others…
Patrice Evra (France), Samuel Eto'o (Cameroon), Didier Drogba (Côte d'Ivoire), Michael Essien (Ghana) are world class players but, unfortunately, they play in somewhat worse teams than the ones I have mentioned above.
The outsider
Every four years, one small country (in the footballing sense) exceeds all expectations. Who will it be this year? Maybe the United States who played against Brazil at the last Confederation Cup final but who lost by a slight 2-3.