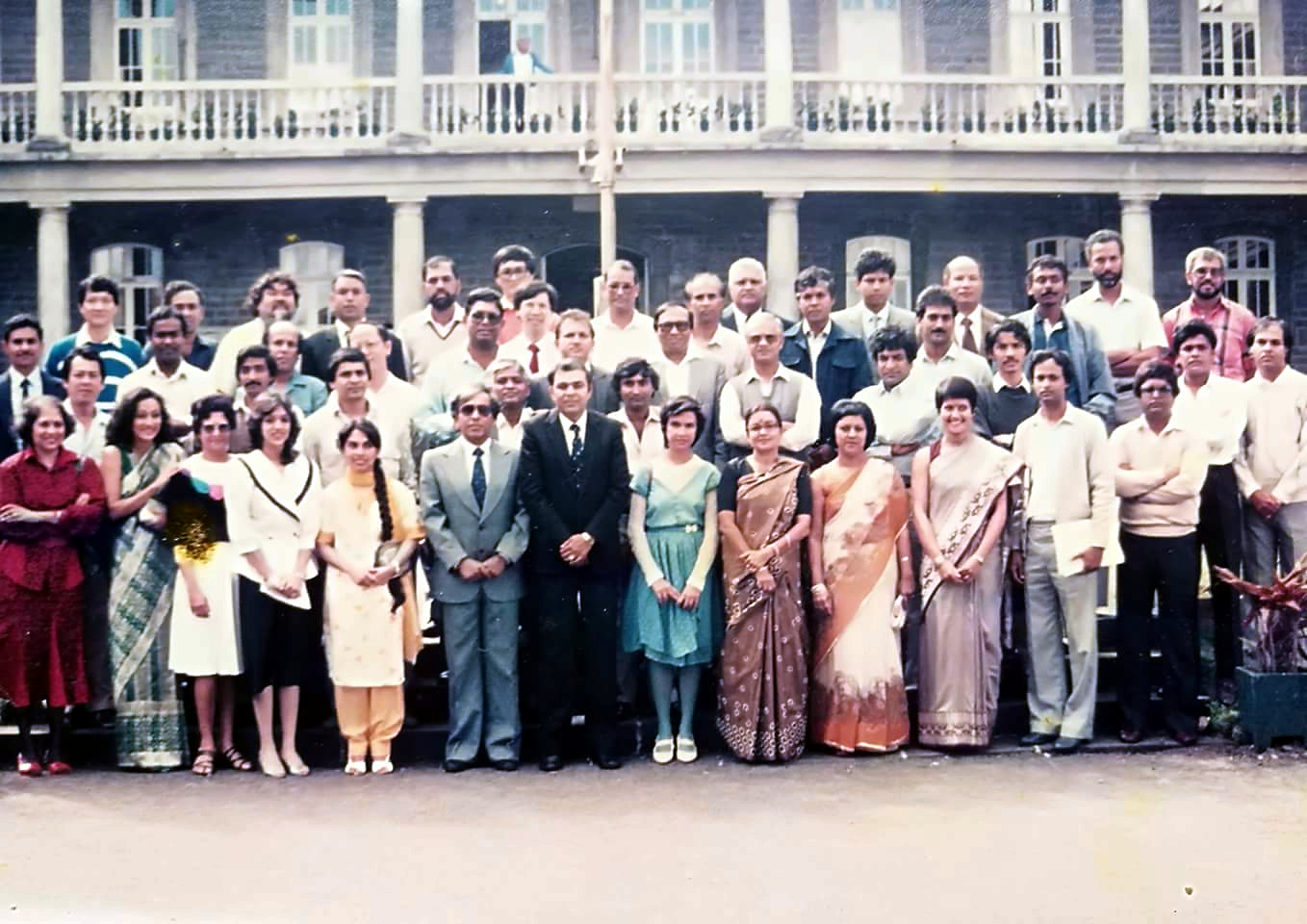 I have just stumbled upon that photo in the Royal College Curepipe Friends group on Facebook.
What can I say? The photo brings back a lot of fond memories. Having spent eight years in the college, I had the pleasure to have a lot of them as teachers. Let me try to remember their names:
Miss Dupont (who really understood immature boys),
Miss Gopaul (Ruby or Castafiore pour les intimes),
Mrs Runghen (one day I will remit to her the tens of French essays due…),
Mrs Nabheebuccus (who I didn't have as teacher but who, as you can easily imagine, we were all appreciative of…),
Mrs Jeewoolall (who did Social Studies with us),
Mrs Chunnoo (who was the mum of one of my classmates),
Mrs Girdhari/Fulena (who we all revered when we were Form I kids),
Mr Mungur (a very nice Economics teacher who I still meet from time to time),
Mr Subadhu (an excellent Chemistry teacher who knew how to deal with rebels),
Mr Boolaky (whom I liked a lot even though I don't remember what subject he taught),
Mr Ng Wong Hing (an excellent Physics teacher who now is at the Ministry of Education),
Mr Law Pak Chung (who was my Biology teacher in Form V),
Mr Beeharry (Carlos pour les intimes who I am 'cause we are related),
Mr Ramsurrun (the very well known Hindi teacher — he saw very very little of me…),
Mr Harmon (the hood aka wood teacher),
Mr Amandine (the desperate music teacher who played guitar really well),
Mr Saverethiar (a very severe Maths teacher),
Mr Mawjee (an English teacher if my memory is right)
+
Mr Wan Hok Chee (a formidable Maths teacher who does not seem to appear in the photo)
And, of course, the rector and his deputy:
Mr Gopaul (who was instrumental into making us Royalistes. I distinctly remember him coming to our Form I class on admission day and telling us: "You are the future of the country". From very early, we were groomed to (depending on the point of view) become spoiled brats or people with the capacity to contribute a lot for the development of Mauritius.)
Mr Rampadaruth (the enforcer of discipline except that, if I remember correctly, we all knew how to disappear when he got near. But I have to confess that he managed to get me twice: (1) when I was in Form II, I left school on the sports day to go and play Pac Man. A friend, Henri, told him and he came to fetch me. I got a Saturday arrest. (2) In Form IV, I showed Hansley how to break the legs of a table to fabricate a drum kit. For some reason, he gave both of us an arrest for "damaging school property".)
I wonder whether it would be possible to organise something where we could all meet again. Maybe for the next Old Royals meeting?