13 December 2016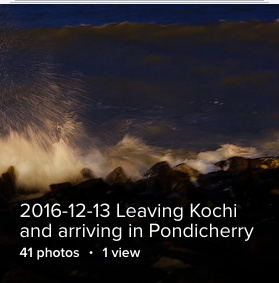 After one week in Kerala, we were ready to discover Pondicherry, a city once administered by France. Our Kerala driver, Mr Ajit, dropped us at the airport where we took an Air India flight to Chennai (we arrived only one day after the big cyclone they had had and we could see the large amount of destruction it had caused). From the Chennai airport, we promptly drove to Pondicherry which is just two hours away.
On reaching there, we realised that we had been booked in Hotel Athiti, a fantastic hotel and, as you can easily guess, we were quite thrilled as we were going to spend three days in the city.
In the evening, we walked to the seafront and we were quite surprised to see that roads near the sea were closed to vehicles at night. A lot of people were walking, some were exercising and kids were having fun. We need to have something similar in Mauritius.
14 December 2016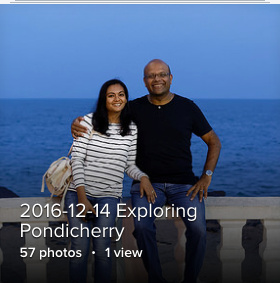 We had a nice breakfast before heading to MG Road to do some light shopping. We witnessed some interesting scenes, in particular the very heavy and noisy traffic as well as the spectacular arrest by Pondicherry police of some men in a bar. What was interesting was that some of the policemen rode their motorcycles with the culprit sitting on the back seat. Some policemen, who didn't come on motorcycles, stopped auto rickshaws which were passing by to drive them to the police station together with the remaining culprits.
In the afternoon, after having a nice beer in the hotel which I had purchased in that same bar, we went back to the seafront and took some quite spectacular photos during the blue hour. It is at this moment that Christina and I realised that Pondicherry was a special place and we could even project ourselves spending some months there in the future, probably when the kids will be at university.
We then had dinner in a good Italian restaurant, La Pasta World, whose owners, native Italians, had settled in Pondicherry for the past eight years. They told us that they really enjoyed the city and we could understand why…
15 December 2016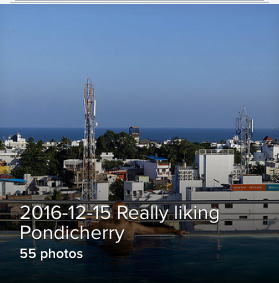 We discovered two beautiful churches in Pondicherry. At the Immaculate Conception Cathedral, we saw a priest conducting mass in Tamil with the audience consisting of mainly relatively old women in colourful sarees. We loved the subtly purple colours inside the church.
The Basilica of the Sacred Heart of Jesus was also beautiful. We were impressed by the stained glass (vitrail in French) and the lighting.
We walked from the basilica to a nice French café, le Café des Arts, to have a light lunch and a milk shake. On our way, we discovered the streets of the old French neighbourhood which contrasted quite sharply with, say, the noisy MG Road.
We returned to the hotel and dived into the rooftop swimming pool from where we could see Pondicherry from above. And we also realised that this was one of the few places in South India where we could see a really blue sky like in Mauritius.
16 December 2016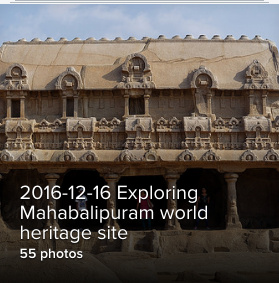 At 8:30, we were at Keralaa Ayurveda to enjoy a full-body Shirodhara massage. The masseurs were all from Kerala and we were delighted by the warm coconut oil dripping on our foreheads.
At breakfast, we had a last chat with the hotel staff, many of whom were from the northern Indian regions like Nagaland and Darjeeling. They were young people full of enthusiasm.
We left Pondicherry for Mahabalipuram, an ancient historic city dating back to the first century. Mahabalipuram has a group of monuments and sanctuaries carved out of rock in the 7th and 8th centuries (temples, caves, open-air rock reliefs and the Shore Temple). The monuments have been classified as a UNESCO World Heritage Site.
We headed back to Quality Inn Sabari in Chennai.
17 December 2016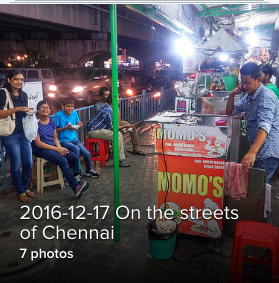 We had already planned to spend the last few days in Chennai doing some shopping. In the middle of Pondy Bazaar, we stumbled upon a Kerala hairdresser where I had a nice haircut followed by a vigorous head massage (Kyan would have the same thing two days later).
Before getting back to the hotel, we stopped at street vendors to have some delicious chicken momos and chicken curry wraps. It was the first time that we were eating on the streets in India and we were delighted at our prowess.
18 December 2016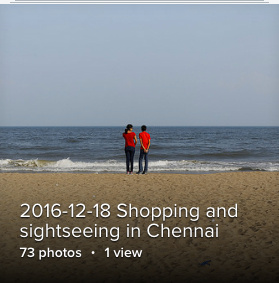 A driver took us to Higginbotham's as we wanted to buy some books. We were not very impressed by the bookstore but we did find some interesting books which are quite difficult to obtain in Mauritius. From there we went to Express Avenue, one of the largest malls in Chennai, where we indulged in some extensive shopping.
In the afternoon, we drove to Marina Beach but couldn't find a parking spot. We settled on Elliot's Beach, a few kilometers away, where we had a great time walking on the beach, witnessing some interesting scenes (people playing crickets, a few drunkards trying to swim and kids having fun on a boat).
On our way back, we stopped at the Periyar Science and Technology Centre, not unlike our own Rajiv Gandhi Science Center, but on a larger scale. Unfortunately, time was short and we couldn't see everything. We enjoyed the visit and the kids had a lot of fun. One interesting observation I made was that India is not afraid to work with different foreign countries to make things happen. For instance, its nuclear energy programme was done in collaboration with Russians (and so is its military aeronautical programmes). India also worked with the USA on some projects as well as European countries and China. This is something we need to learn in Mauritius: working with other countries when we clearly don't master everything. It is not only a question of making people come from abroad and do some work in Mauritius. It's about working together and have a real transfer of knowledge and technology.
19 December 2016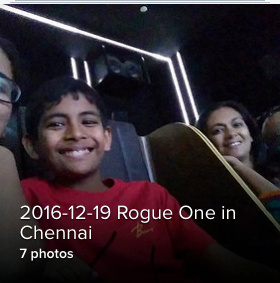 We wanted to watch a Rajinikanth movie in Chennai but we finally settled on the next best thing, Rogue One :-)
The new Star Wars installment had just been released the previous day and, because it was on a week day, we had excellent seats and we greatly enjoyed the movie including the 3D. Interestingly, the ticket was just INR 150 per person, which is about Rs 90. A bonus was where Christina and I were seated: a comfortable two seater sofa.
20 and 21 December 2016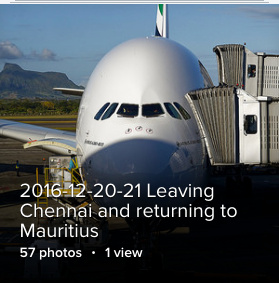 Our last day in South India was spent doing some last minute shopping, packing everything in our three suitcases and two backpacks and trying to sleep a bit as our flight to Dubai was scheduled at night.
We left the hotel after having a very tasty dinner thanks to Mr Vasu, the maître d'hôtel, and his staff. They were instrumental in making our stay in Chennai enjoyable and comfortable.
We departed from Chennai very late at night as our flight had been delayed and got to Dubai early in the morning. We did some shopping in the duty free shops there and took our final flight to Mauritius.
We reached our beautiful island around 16:30 after spending a quite intense but very memorable three weeks in the South of Incredible India.
Discovering the South of Incredible India over three weeks
Our third week in South India: Pondicherry, Mahabalipuram and back to Chennai (this post)