6 December 2016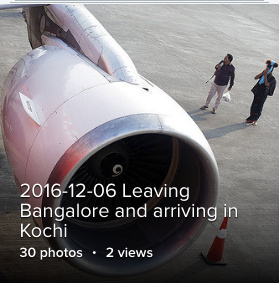 After spending one week in the states of Tamil Nadu and Karnataka, we left for Kochi in the state of Kerala on 6 December. Our friend, Dilip, was kind enough to drop us at the airport where we took an Air Asia flight. A driver, Mr Ajit, was waiting for us on arrival and he took us to our hotel, South Regency, in the middle of Kochi (also known as Cochin or Ernakulam).
We were a bit tired so we just walked a bit around, had a nice dinner at the hotel and slept early.
7 December 2016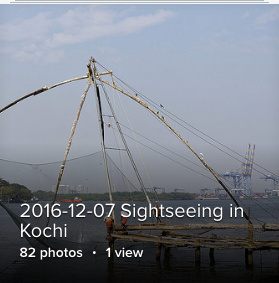 This was a very intense day. We started by visiting the Dutch Palace, then went to Jew Town to indulge in some light shopping and to visit the historic Jew synagogue there. At lunchtime, we had some nice sandwiches, burgers and salads at Café Crafters. We then visited St Francis Church where Vasco da Gama, the famous explorer, was initially buried before his remains were transferred to Portugal. Near the church were some beautiful colonial houses designed in a Dutch style.
We walked to the seafront where we finally discovered the famous Chinese nets still used by local fishermen. We spent a lot of time watching them manipulating the nets and catching quite a lot of fish.
In the afternoon, we went to the Kerala Folklore Museum where we discovered Kerala art, especially masks worn by performers during plays. We were also quite amused to see small replicas of boys' genital organs offered to Gods by aspiring parents wishing to have boys around 1000 BC (i.e. 3000 years ago).
8 December 2016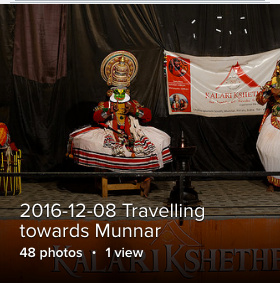 We left Kochi in the morning to drive towards Munnar. On the way, we visited an ayurvedic spice garden and bought a few ayurvedic oils. We reached our hotel, The Munnar Queen, early afternoon.
Close to the hotel was a small theater where we attended a Kathakali show. This typical Kerala classical performance only features male actors, some of whom dress up as women, with large costumes and heavy makeup (not unlike Chinese opera as a matter of fact). The story was about a princess, her father the king as well as a villain. The exaggerated eye and body movements were fascinating. The live music being performed as well as the singing were also of very high standard.
At the end of the play, Christina and I posed with the performers and we were very happy.
After the performance, Kyan and Anya returned to the hotel while Christina and I tried a Kerala Abhyanga full-body warm oil massage.
9 December 2016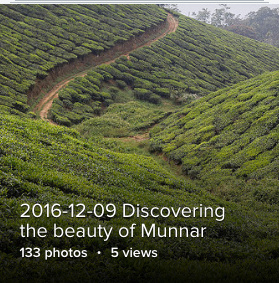 Munnar is well known for its beautiful tea plantations which are often featured in Indian movies. We were lucky to have an excellent weather on that day and we managed to capture beautiful photos. The kids convinced Christina and I that we should enact a typical Indian movie dance scene which we did with a lot of pleasure.
We visited the Munnar tea museum, tasted tea there and had lunch which we had brought from the hotel. We then relaxed at Hydel Park, a nice and tranquil garden full of beautiful flowers and with a beautiful view of the Munnar tea plantations in the background. Later, the driver brought us to the Pothamedu viewpoint where the whole of the Munnar valley could be admired.
In the evening, we attended a Kalaripayattu show, a Kerala martial art which dates from the 3rd century BC. We were amazed by the skills, the strength and the agility of the performers and we quickly realised that Kalaripayattu is as complex as Japanese Karate or Chinese Kung fu. Kyan was specially delighted and couldn't wait to have his photo taken with the performers while putting on a menacing look (his words…).
Munnar was really an important milestone in our trip.
10 December 2016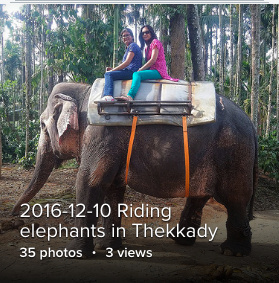 In Thekkady, we stayed at Spice Grove hotel, surrounded by a cardamom and pepper garden. During the day, we rode elephants.
Christina and I wanted to have a drink and we had spotted a beer and wine parlour attached to the hotel. But when we got there, we were quite surprised to see that it was more like a tavern with only men drinking. We quickly returned to the hotel where we had a very heavy dinner. However something didn't agree with my stomach and I was a bit sick.
11 and 12 December 2016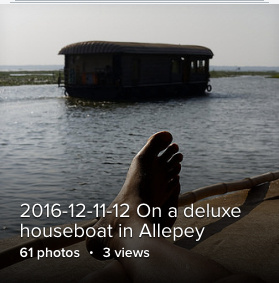 We checked in at a house boat called Ayodhya at noon. Our skipper, Vishal, and our cook, Vinod, welcomed us with a nice cocktail and, after setting sail, we had a wonderful lunch on board. We tasted typical Kerala food including the very well known Karimeen fish, fried to perfection.
Anya got very lucky and managed to catch three small fish on her first fishing attempt. Kyan tried to emulate her but couldn't. We sailed across the Kerala backwaters to a small village where we bought two big scampis (langoustines) to have for dinner. Vinod fried Anya's three fish and she was delighted to share them with all of us.
We greatly enjoyed the scenery, the birds and the beautiful sunset. Everyone felt very relaxed after ten intense days in South India.
Vishal took us to another small village where we docked for the night as regulations do not allow boats to stay in the middle of the backwaters at night. We slept well as the boathouse had quite adequate facilities including air conditioning.
The next morning, we had a substantial breakfast and sailed back to where our driver, Mr Ajit, picked us up to drive back to Kochi. There, we did some shopping in Jew town as we knew that we were going to leave the western coast the next day to go to the east of India.
Discovering the South of Incredible India over three weeks
Our second week in South India: Kochi, Munnar, Thekkady and Allepey (this post)