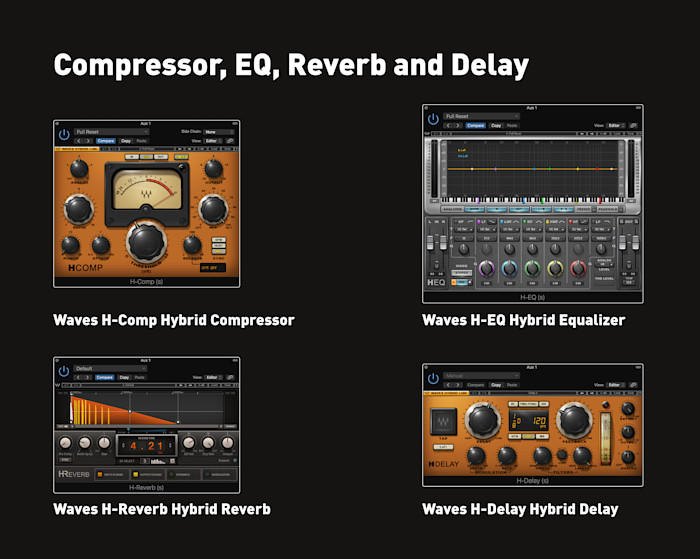 In my previous Bundles of Waves plugins post, I wrote that, even though I have tried a number of Waves audio plugins over the years, I have 9 favourites:
H-Comp Hybrid Compressor ($179)
H-EQ Hybrid Equalizer ($179)
H-Reverb Hybrid Reverb ($349)
H-Delay Hybrid Delay ($179)
Bass Rider ($99)
Vocal Rider ($249)
L2 Ultramaximizer ($299)
Dorrough Stereo ($199)
WLM Plus Loudness Meter ($399)
Unfortunately, buying them would cost me $2,131 which is waaaaayyyyy too expensive.
The Waves website
Fortunately, Waves regularly offer deals on its website. On 19 April 2017, I discover this incredible deal there. All prices are slashed: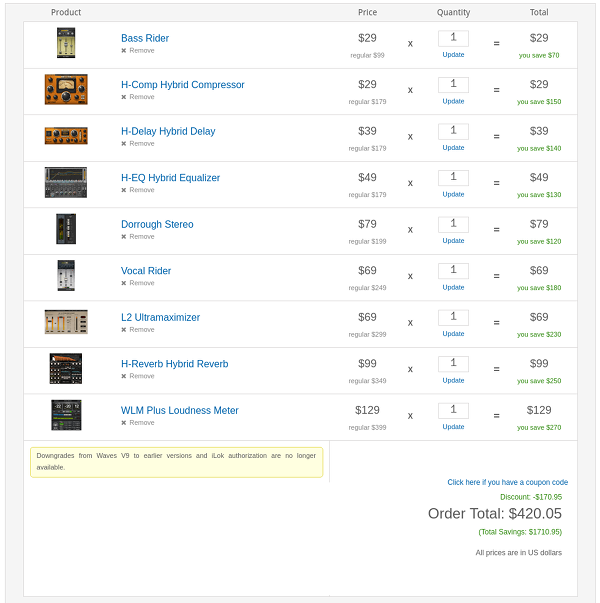 My favoured 9 plugins would today cost $420.05 (Rs 14,865) instead of $2131 (regular price). This is a massive 80% discount!!! But it is still a bit expensive for me. I decided to wait a bit.
Cyber Monday Deal
On 29 November 2017, I found out about the massive Cyber Monday Deal, still on Waves' website: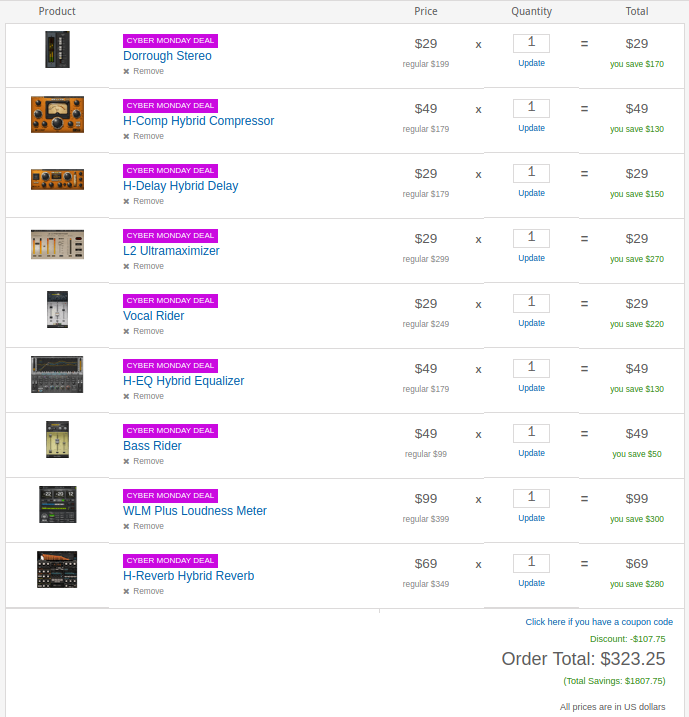 There is now a phenomenal discount of $1807.75 off the regular price. My 9 favorites today only cost $323.25 (Rs 11298.23). Still a bit expensive. Skipped again.
Plugin Discounts
On 19 June 2018, I finally discover that a lot of people buy Waves plugins from Plugin Discounts which offers some of the best deals on the planet. I take the decision to always use such websites in the future and to only buy plugins if they are less or equal to $29 each. Here is what I finally bought today: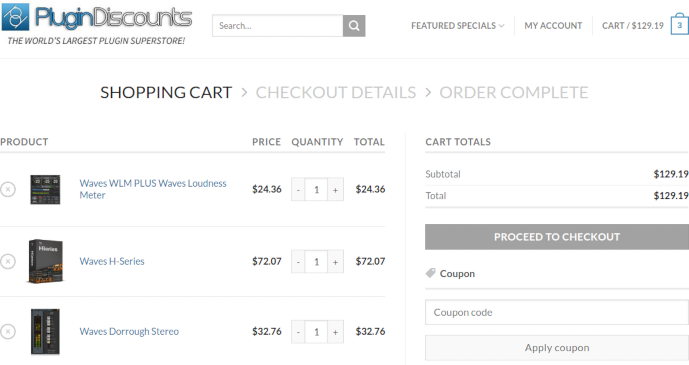 I got the Waves WLM Plus Loudness Meter at $24.36 (94% discount, which is amazing!), the Waves Dorrough Stereo Meter at $32.76 (which is more than $29 I know but which I had to get in my first Waves purchase ever because I am so reliant on it when mixing, 84% discount) and the Waves H-Series consisting of H-Reverb, H-Delay, H-EQ and H-Comp. The bundle cost me $72.07 which means that each individual plugin is less then $29 and the discount is a staggering 92%. In total, I paid $129.19 (Rs 4515.45) for 6 plugins.
What remains now is the L2 Ultramaximizer which I use on my main bus to make sure that there is no clipping. Right now, I am quite far from making final mixes or mastering so I can wait a bit for the L2 to become available, either on Waves' website or at Plugin Discounts, at $29. Right now, it is available at $69 which is too much.
As for Vocal and Bass Rider, I can wait as I am not recording vocals or bass these days. Only electronic sounds, baby ;-)
The remaining plugins
On 24 Jun 2018, I got Center at $24.36 on Plugin Discounts.
On 28 Jun 2018, I got Vocal Rider at $29 on Waves' website. It was slightly cheaper on Plugin Discounts but, for some reason, my credit card was not working there.
On 04 Jul 2018, I got Bass Rider and the SSL G-Master Buss Compressor (which I didn't intend to buy but which is excellent to glue a mix) on Waves' website. Each cost $29 but with the Waves discount for the 2nd plugin it was more like $25.38 each.
On 11 Jul 2018 after reading a lot, I bought Waves Tune at $24.36 on Plugin Discounts. I have used it only once since to tune Anya's and Kyan's voices while they were singing Where's the Revolution by Depeche Mode and it is a fantastic plugin. It is transparent and makes voices twice better.
On 16 Jul 2018, I got the Vitamin Sonic Enhancer and took the plunge for the Scheps Omni Channel. Both costs $29 but more like $25.38 with the discount on Waves' website. I had no intention to get a channel strip. After all, I already own a compressor and an EQ. But I only had to use the Omni Channel once to realise how good it was. I used it to tame a bassline (albeit with Bass Rider before it) and the resulting sound was amazingly good. The only plugin I intend to buy now is the L2 Ultramaximizer.
On 26 Jul 2018, I finally bought the L2 Ultramaximizer on the Waves website at $29.00. I'm done.
Am I? Two days later, on 28 Jul 2018, I got the F6 Floating-Band Dynamic EQ on Waves website at $21.75. A dynamic EQ is an EQ where cut or boost are made only if a signal crosses a certain threshold. One example of use is when trying to EQ a harsh cymbal. If a normal EQ is used, then high frequencies will be cut throughout. With a dynamic EQ, the cut will be made when the cymbal is really loud (and this happens only momentarily). A dynamic EQ is similar to a multiband compressor but it is much easier to use. That's why I didn't get a C6…
On 28 Oct 2018, I took the plunge and got Brauer Motion, a circular stereo auto-panner designed with Michael Brauer who mixes Coldplay. It cost $26.91. It's a fun plugin which makes sounds move in space. I intend to use it on some sounds from the past (sampled from my Kawai K4 maybe) which lack movement.
On 24 Nov 2018, Waves gave me Sibilance for free. It's a vocal de-esser with excellent quality.
24 Jan 2019 is going to remain a great day. I finally took the plunge and purchased the four CLA Classic Compressors. I paid $69 and I got the CLA-2A Compressor / Limiter, the CLA-3A Compressor / Limiter and the CLA-76 Compressor / Limiter (in two variants, Blacky and Bluey). These four compressors are considered true classics by audio engineers the world over. In the coming months, I intend to learn how to use them properly.
On 21 Jun 2019, I purchased Bass Fingers, a virtual instrument emulating a bass guitar being played with the finger (instead of being slapped). Cost me $24.50 and it's fantastic to lay down authentic and realistic-sounding basslines. I could never play a bass guitar but, with Bass Fingers, I can try being one with my master keyboard.
On 30 Nov 2019, I got Berzerk Distortion for free and it's dope. With it, I can have wild, deranged, creative distortion. To be honest, I am not much of a distortion guy but, when needed, it sure comes handy.
On 09 Dec 2019, I upgraded my Dorrough Stereo to Dorrough Surround (which includes Dorrough Stereo) for free. Having more plugins without having to pay is nice, even though I can't see myself mixing in surround soon. I'm still struggling in stereo.
On 2 April 2020, thanks to the fact that I already owned the SSL G-Master Buss Compressor, Waves allowed me to upgrade to the SSL 4000 Collection bundle for just $74. This means that I now own the SSL E-Channel, the SSL G-Channel and the SSL G-Equalizer as well. All of them are plugins which have earned rave reviews for nearly perfectly emulating a real SSL 4000 console (which, in addition to costing an arm and a leg, is used by the very best including Chris Lord-Alge).
On 9 April 2020, I bought the LoAir subharmonic generator plugin (it has two adjustable low-frequency processors for shaping the ultra-low end) and the J37 tape saturation plugin (which emulates the very machine used to record many of the greatest masterpieces in modern music at Abbey Road Studios). I became eligible for one free plugin and I opted for the API 550A and API 550B EQ. The idea was for me to be able to use the CLA compressors together with the API EQs and get a kind of vintage channel strip.
Finally, on 15 July 2020, I bought the JJP Analog Legends bundle which came with Vari-Mu compressors based on the world famous Fairchild 660 (mono) and 670 (stereo), namely the PuigChild 660 Compressor and the PuigChild 670 Compressor. The bundle also features emulations of two legendary Pultec EQs in the form of the PuigTec EQP-1A EQ (for low and high frequencies) and the PuigTec MEQ-5 EQ (more suited for mid frequencies e.g. vocals). All these plugins essentially colour the signal. This allowed me to choose a free plugin and I opted for the NLS Non-Linear Summer which, in essence, allows me to emulate real analog consoles within my DAW.
Conclusion
I'm happy with my Waves collection. I now have the API 550, Bass Fingers, Bass Rider, Berzerk Distortion, Brauer Motion, Center, CLA-2A Compressor / Limiter, CLA-3A Compressor / Limiter, CLA-76 Blacky Compressor / Limiter, CLA-76 Bluey Compressor / Limiter, Dorrough Stereo, Dorrough Surround, F6 Floating-Band Dynamic EQ, H-Comp Hybrid Compressor, H-Delay Hybrid Delay, H-EQ Hybrid Equalizer, H-Reverb Hybrid Reverb, J37 Tape, L2 Ultramaximizer, LoAir, NLS Non-Linear Summer, PuigChild 660 Compressor, PuigChild 670 Compressor, PuigTec EQP-1A EQ, PuigTec MEQ-5 EQ, Scheps Omni Channel, Sibilance, SSL E-Channel, SSL G-Channel, SSL G-Equalizer, SSL G-Master Buss Compressor, Vitamin Sonic Enhancer, Vocal Rider, Waves Tune and WLM Plus Loudness Meter.
And, now that I think of it, this allows me to have multiple setups: one based on SSL plugins (+ reverb and delay), one based on the CLA compressors with the API equalizers and one based on the Scheps Omni Channel.
And, of course, with the NLS Non-Linear Summer, I now have the SSL 4000G of Mark "Spike" Stent, the EMI TG12345 Mk 4 desk owned by Mike Hedges or the Neve 5116 console custom-made for Yoad Nevo. Of course, I am not stupid and I know that there is a difference between a (relatively inexpensive) software and the real hardware but the idea is not to recreate, ahem, reality but to understand how real producers work with real iconic equipment.
Cool. Cool. Cool. Cool. Cool.
Or, rather: indeed, indeed, indeed, indeed, indeed.