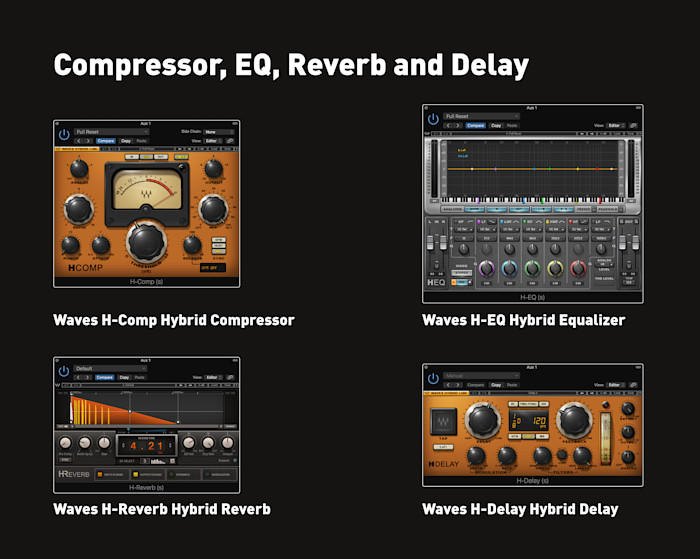 In my previous Bundles of Waves plugins post, I wrote that, even though I have tried a number of Waves audio plugins over the years, I have 9 favourites:
H-Comp Hybrid Compressor ($179)
H-EQ Hybrid Equalizer ($179)
H-Reverb Hybrid Reverb ($349)
H-Delay Hybrid Delay ($179)
Bass Rider ($99)
Vocal Rider ($249)
L2 Ultramaximizer ($299)
Dorrough Stereo ($199)
WLM Plus Loudness Meter ($399)
Unfortunately, buying them would cost me $2,131 which is waaaaayyyyy too expensive.
The Waves website
Fortunately, Waves regularly offer deals on its website. On 19 April 2017, I discover this incredible deal there. All prices are slashed: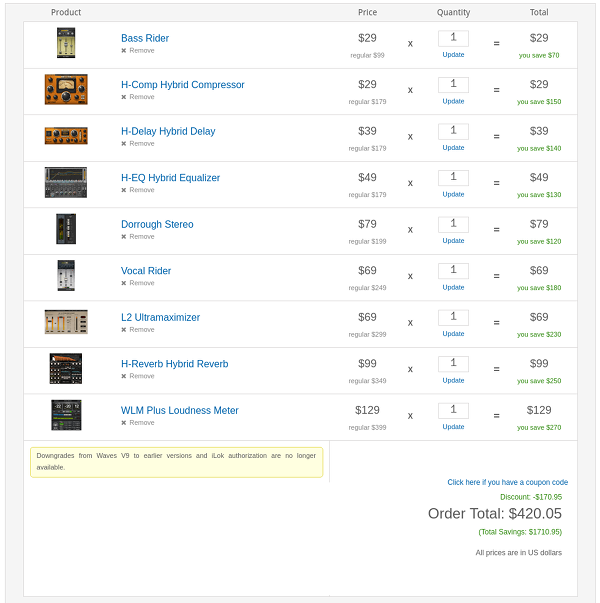 My favoured 9 plugins would today cost $420.05 (Rs 14,865) instead of $2131 (regular price). This is a massive 80% discount!!! But it is still a bit expensive for me. I decided to wait a bit.
Cyber Monday Deal
On 29 November 2017, I found out about the massive Cyber Monday Deal, still on Waves' website: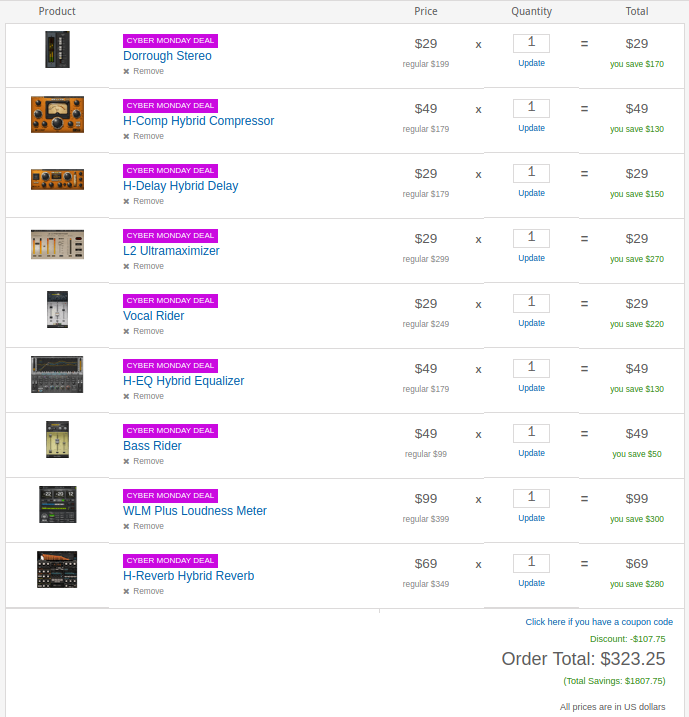 There is now a phenomenal discount of $1807.75 off the regular price. My 9 favorites today only cost $323.25 (Rs 11298.23). Still a bit expensive. Skipped again.
Plugin Discounts
On 19 June 2018, I finally discover that a lot of people buy Waves plugins from Plugin Discounts which offers some of the best deals on the planet. I take the decision to always use such websites in the future and to only buy plugins if they are less or equal to $29 each. Here is what I finally bought today: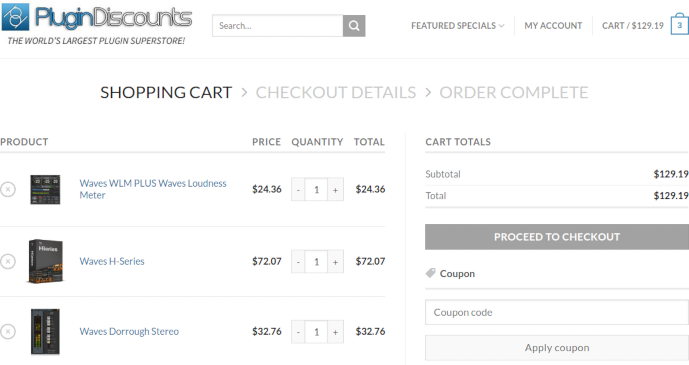 I got the Waves WLM Plus Loudness Meter at $24.36 (94% discount, which is amazing!), the Waves Dorrough Stereo Meter at $32.76 (which is more than $29 I know but which I had to get in my first Waves purchase ever because I am so reliant on it when mixing, 84% discount) and the Waves H-Series consisting of H-Reverb, H-Delay, H-EQ and H-Comp. The bundle cost me $72.07 which means that each individual plugin is less then $29 and the discount is a staggering 92%. In total, I paid $129.19 (Rs 4515.45) for 6 plugins.
What remains now is the L2 Ultramaximizer which I use on my main bus to make sure that there is no clipping. Right now, I am quite far from making final mixes or mastering so I can wait a bit for the L2 to become available, either on Waves' website or at Plugin Discounts, at $29. Right now, it is available at $69 which is too much.
As for Vocal and Bass Rider, I can wait as I am not recording vocals or bass these days. Only electronic sounds, baby ;-)
The remaining plugins
On 24 Jun 2018, I got Center at $24.36 on Plugin Discounts.
On 28 Jun 2018, I got Vocal Rider at $29 on Waves' website. It was slightly cheaper on Plugin Discounts but, for some reason, my credit card was not working there.
On 04 Jul 2018, I got Bass Rider and the SSL G-Master Buss Compressor (which I didn't intend to buy but which is excellent to glue a mix) on Waves' website. Each cost $29 but with the Waves discount for the 2nd plugin it was more like $25.38 each.
On 11 Jul 2018 after reading a lot, I bought Waves Tune at $24.36 on Plugin Discounts. I have used it only once since to tune Anya's and Kyan's voices while they were singing Where's the Revolution by Depeche Mode and it is a fantastic plugin. It is transparent and makes voices twice better.
On 16 Jul 2018, I got the Vitamin Sonic Enhancer and took the plunge for the Scheps Omni Channel. Both costs $29 but more like $25.38 with the discount on Waves' website. I had no intention to get a channel strip. After all, I already own a compressor and an EQ. But I only had to use the Omni Channel once to realise how good it was. I used it to tame a bassline (albeit with Bass Rider before it) and the resulting sound was amazingly good. The only plugin I intend to buy now is the L2 Ultramaximizer.
On 26 Jul 2018, I finally bought the L2 Ultramaximizer on the Waves website at $29.00. I'm done.
Am I? Two days later, on 28 Jul 2018, I got the F6 Floating-Band Dynamic EQ on Waves website at $21.75. A dynamic EQ is an EQ where cut or boost are made only if a signal crosses a certain threshold. One example of use is when trying to EQ a harsh cymbal. If a normal EQ is used, then high frequencies will be cut throughout. With a dynamic EQ, the cut will be made when the cymbal is really loud (and this happens only momentarily). A dynamic EQ is similar to a multiband compressor but it is much easier to use. That's why I didn't get a C6…
On 28 Oct 2018, I took the plunge and got Brauer Motion, a circular stereo auto-panner designed with Michael Brauer who mixes Coldplay. It cost $26.91. It's a fun plugin which makes sounds move in space. I intend to use it on some sounds from the past (sampled from my Kawai K4 maybe) which lack movement.
On 24 Nov 2018, Waves gave me Sibilance for free. It's a vocal de-esser with excellent quality.
24 Jan 2019 is going to remain a great day. I finally took the plunge and purchased the four CLA Classic Compressors. I paid $69 and I got the CLA-2A Compressor / Limiter, the CLA-3A Compressor / Limiter and the CLA-76 Compressor / Limiter (in two variants, Blacky and Bluey). These four compressors are considered true classics by audio engineers the world over. In the coming months, I intend to learn how to use them properly.
On 21 Jun 2019, I purchased Bass Fingers, a virtual instrument emulating a bass guitar being played with the finger (instead of being slapped). Cost me $24.50 and it's fantastic to lay down authentic and realistic-sounding basslines. I could never play a bass guitar but, with Bass Fingers, I can try being one with my master keyboard.
On 30 Nov 2019, I got Berzerk Distortion for free and it's dope. With it, I can have wild, deranged, creative distortion. To be honest, I am not much of a distortion guy but, when needed, it sure comes handy.
On 09 Dec 2019, I upgraded my Dorrough Stereo to Dorrough Surround (which includes Dorrough Stereo) for free. Having more plugins without having to pay is nice, even though I can't see myself mixing in surround soon. I'm still struggling in stereo.
On 2 April 2020, thanks to the fact that I already owned the SSL G-Master Buss Compressor, Waves allowed me to upgrade to the SSL 4000 Collection bundle for just $74. This means that I now own the SSL E-Channel, the SSL G-Channel and the SSL G-Equalizer as well. All of them are plugins which have earned rave reviews for nearly perfectly emulating a real SSL 4000 console (which, in addition to costing an arm and a leg, is used by the very best including Chris Lord-Alge).
On 9 April 2020, I bought the LoAir subharmonic generator plugin (it has two adjustable low-frequency processors for shaping the ultra-low end) and the J37 tape saturation plugin (which emulates the very machine used to record many of the greatest masterpieces in modern music at Abbey Road Studios). I became eligible for one free plugin and I opted for the API 550A and API 550B EQ. The idea was for me to be able to use the CLA compressors together with the API EQs and get a kind of vintage channel strip.
On 15 July 2020, I bought the JJP Analog Legends bundle which came with Vari-Mu compressors based on the world famous Fairchild 660 (mono) and 670 (stereo), namely the PuigChild 660 Compressor and the PuigChild 670 Compressor. The bundle also features emulations of two legendary Pultec EQs in the form of the PuigTec EQP-1A EQ (for low and high frequencies) and the PuigTec MEQ-5 EQ (more suited for mid frequencies e.g. vocals). All these plugins essentially colour the signal. This allowed me to choose a free plugin and I opted for the NLS Non-Linear Summer which, in essence, allows me to emulate real analog consoles within my DAW.
On 3 September 2020, I got Manny Marroquin Tone Shaper and MaxxVolume for free from Waves. I wasn't planning to ever buy them but their online reviews are not bad at all. The Marroquin Tone Shaper is a kind of multiband compressor while MaxxVolume is a very complete compressor great for levelling vocals for example.
On 15 September 2020, I took the plunge and bought the Scheps 73 pre-amp/EQ and the API 2500 compressor. The Scheps 73 models the famous Neve 1073 so favoured by producers. It is generally used when tracking (i.e. recording) and I intend to use it to record vocals, guitars and, yes, the Mauritian ravanne. This will change my workflow as I tend to record dry but I want to try. The API 2500 is a VCA compressor which is world famous for its versatility. I got it because I want to understand the API philosophy. Interestingly, because of these two purchases, I could choose a plugin for free and I got the API 560 10-Band graphic equalizer. With the API 550 I already had, my API collection is complete.
On 21 September 2020, I got OneKnob Wetter for free from Waves. It's a reverb plugin with only one knob (hence the name!)
On 6 October 2020, I got OneKnob Phatter for free from Waves. It's an EQ for bass with only one knob (hence the name!)
On 7 October 2020, I took the plunge and got Reel ADT. As explained by Waves themselves: "is the first plugin to successfully emulate Abbey Road Studios' pioneering process of Artificial Double Tracking. The effect that would become an integral part of Abbey Road's signature sound was initially created at the famed studios in the 1960s to meet the needs of some very special clients: The Beatles." On the same day, I used Real ADT to do a new mix of Anya and Kyan singing Where's The Revolution by Depeche Mode and I (and they) liked the result. Pity that they have not given me the "right" to put the mix online…
On 25 Oct 2020, I got OneKnob Louder for free. I don't intend to use it.
On 01 Nov 2020, I obtained the IR-L Convolution Reverb for free and I found out that Waves gives a 4.8Gb convolution reverb library for free. I downloaded it and, lo and behold, it's amazing.
On 16 Nov 2020, I obtained the dbx® 160 Compressor / Limiter for free.
On 30 Nov 2020, I decided to invest in Abbey Road reverbs and the best Renaissance plugins. I purchased Abbey Road Reverb Plates and got Abbey Road Chambers for free. I also purchased Renaissance Vox (which is a beast of a compressor despite the name) and got Renaissance Equalizer for free.
On 06 Apr 2021, I upgraded the IR-L Convolution Reverb which I got for free to the IR360 Convolution Reverb which works in surround mode. Of course, I do not do surround but what's nice is that the IR1 Convolution Reverb is included in the deal. The IR1 is an upgrade on the IR-L. For example, when using the IR1, the RT60 decay time can be adjusted both positively and negatively over a 4:1 range.
On 03 May 2021, I obtained the Codex Wavetable Synth for free courtesy of Beat Magazin from Germany. My synth background is digital (think Roland D-50 or the Kawai K4) and, of course, analog (think the Roland Jupiter-8 or the Roland Juno-106) and wavetable synthesis is something I find quite intriguing. Of course, I know that Xfer Records Serum is considered to be the best but, having spent some time with Codex, I have to say that I am quite impressed. The fact that it is so easy to import samples in it makes it even more impressive. I love adding colour to my sound palette.
On 18 May 2021, I purchased the Flow Motion FM Synth as I wanted to add modern FM synthesis to my palette. I already had Dexed, the free DX7 emulator but I wanted something more for the 2020s. I also purchased the VU Meter as I am always keen on having good metering. And, as a result of these two purchases, I selected the three MDMX Distortion Modules for free and, as I already own Berzerk, I also get MultiMod Rack for free.
On 12 September 2021, I decided to get the Waves Update Plan for all my Waves plugins still in Version 10 and 11. I needed to have all of the plugins in Version 12 (12.7 to be more precise) so that they work on the new M1 Mac mini I have just purchased. Fortunately, there was a nice sale going on and I managed to grab Bass Slapper, Infected Mushroom Pusher, Kaleidoscopes, MetaFilter and S1 Stereo Imager for free. The idea, apart from the Bass Slapper, is to have effect plugins to get really creative (and modern) during the mixing process. I really need to learn how to use all of them, including the ones I had before such as Berzerk Distortion, Brauer Motion, MDMX Distortion Modules, MultiMod Rack, etc.
On 10 November 2021, only two months after my last WUP, I decided to do a WUP again (Waves is getting a lot of money from me lately…) The reason is that the latest V13 version of Waves plugins work natively on Apple M1 processors now and, in the medium term, I would like to transition to ARM entirely (Reaper, Roland Cloud synths, Waves plugins and the other plugins I use on a regular basis). This is going to take a few months but I expect the transition to happen by March 2022. This means that, in any case, I would have had to upgrade all my V12 plugins to V13. I chose to do it now because Waves was offering a 25% discount and, of course, I got another $20 off this reduced price thanks to everyPlugin. All my Waves plugins are now V13 and ARM (Apple M1) native.
On 15 November 2021, I got a wonderful surprise: Waves released the SSL EV2 Channel, an improved successor of the SSL E-Channel, and I got it for free because I owned the SSL 4000 Collection bundle (in addition to the API Collection, the CLA Classic Compressors, the H-Series and the JJP Analog Legends).
On 26 November 2021, during Black Friday, I decided to purchase three vocal plugins which have been on my radar for quite some time: Waves Tune Real-Time, Vocal Bender and OVox Vocal ReSynthesis. Got the three of them at their lowest price ever and, even though I applied a discount voucher which I already had from a previous purchase, still managed to get a free plugin. I chose the PRS SuperModels guitar amp simulations, namely Archon, Dallas and V9.
On 1st December 2021, because of the Cyber Monday Sale i.e. Buy 2, Get 2 Free, I decided to purchase the new Retro Fi and one of the cheapest Waves plugins, OneKnob Filter, which I have been wanting for some time now in order to automate some nice filter sweep across some of my tracks. This allowed me to choose two plugins from a decent selection and I got Torque and Renaissance Bass. I had Renaissance Bass in my wish list for some time now and I got it because, well, it is one of the best plugins ever to create harmonics for bass. Now, this might seem counterintuitive because bass is all about low frequencies and harmonics are higher frequencies but it so happens that people use bad speakers now (their phones, laptops and Bluetooth speakers) and these cannot reproduce bass. It is therefore important to give an illusion of bass, thereby creating harmonics above the fundamental. Torque, on its part, will allow me to tune the drum samples which I am going to use more frequently now. My latest tracks have all featured sampled drums and I am sure that tuning the kick and the snare will come in handy.
On 15 February 2022, Waves came out with a free plugin called COSMOS Sample Finder. As I had many samples which I had collected over the years, I got the plugin. But I also decided to purchase the new CR8 Creative Sampler because, well, COSMOS integrates seamlessly with it. Of course, I already had other samplers, most notably TAL Sampler, but CR8 looks easy to use and, sometimes, easy is good.
On 26 March 2022, I purchased CLA Vocals, one plugin which I had been keen to get for some time now. It was being sold for $24.99 which is its lowest price ever. I am looking forward to having more vocals in my music and CLA Vocals is very highly regarded. In fact, it is considered to be one of the best Waves plugins.
On 5 April 2022, I got Trans-X for free courtesy of Attack Magazine. It is a transient wave shaper similar to Torque (which I already have) and Smack Attack (which I might get one day if it become cheap). I also have the SPL Transient Designer Plus which I used in the past to tame a ravann recording I made and which worked really well.
On 14 April 2022, due to all Abbey Road plugins being sold for $29.99 each, I took the courage to get two plugins from my wish list: the Abbey Road TG Mastering Chain and the EMI TG12345 Channel Strip. This allowed me to obtain the last item on my wish list, the Smack Attack transient shaper, for free.
On 25 May, after my brother-in-law convinced me to give Nx technology a try (aka mixing using headphones as if you were in a world-class studio) and, benefiting from Memorial Day Sale, I got (Nx) Abbey Road Studio 3 and Nx Ocean Way Nashville at $29.99 each. I have to say that Nx is amazing and my mixes are way better now. And, in addition, I got to choose two plugins for free and I got the NS1 Noise Suppressor and the Scheps Parallel Particles.
On 7 June 2022, I bought Clarity Vx at $29.99 during a Flash sale. Interestingly, it's the only V13 Waves plugin which is not yet M1 native but, according to Waves, this is being worked on. The reviews online are very positive and I'm looking forward to podcasting / videocasting more in the (near) future. I expect that I'll use Vx and, maybe, NS1 quite a lot.
On 20 August 2022, I bought the new Waves Harmony plugin at $29.99 to create vocal harmonies. It was being sold at a special introductory price and I got an additional $10 off as I had the OVox plugin. I really wanted to get the mighty Renaissance Compressor for free so I also purchased the OneKnob Pumper at a discounted price of $23.99. I have watched a few videos of the Pumper in use and it's dead easy to get that dance-floor pumping effect with it. I definitely use it in my own music.
On 6 September 2022, during the Labour Day Sale where most plugins were being sold for $29.99, I got a $10 voucher which I used to purchase the Abbey Road Saturator for $19.99 instead of the regular $199. I have a large collection of saturators now and I will need to learn how to use them correctly when mixing.
On 15 September 2022, on the day Kyan turned 18, I bought the Abbey Road RS124 Compressor. It was the last plugin in my wish list and I managed to get it at $24.99 thanks to yet another $10 voucher I had because I had answered to a survey on the COSMOS Sample Finder.
On 15 November 2022, I got an email from Waves stating that the Renaissance Maxx bundle was being sold at its lowest price ever (at $39.99). Because I already owned a few Renaissance plugins, I managed to snatch the bundle at $29 and I got Renaissance Axx, Renaissance Channel, Renaissance DeEsser and Renaissance Reverb. I spend a lot of time watching music production videos on YouTube and it is obvious that these plugins are go-to plugins for many of the top producers. So it is not a bad idea to own and know them.
On 25 November 2022 (Black Friday), I got Lil Tube from free from Waves. It is the first saturation plugin in a new series of plugins called Magma. Must be some kind of new algorithm which Waves is now using.
On 28 November 2022 (Cyber Monday), I purchased BB Tubes, a new plugin released on that day by Waves to add saturation and distortion to a signal. It was being sold at $24.99 instead of its regular price (as from the next day) of $149.00. The reviews online were very positive and, on the webpage of the plugin, top producers such as Tony Maserati, Rob Kinelski, Greg Wells, Dave Pensado, Andrew Scheps, Dave Darlington, María Elisa Ayerbe, Junior Sanchez and so many others were raving about it. This must really be a special plugin and I am really keen to use it.
On 17 July 2023, Waves upgraded one of its best plugins, Scheps Omni Channel, to version 2 with added functionality. I got Scheps Omni Channel 2 for free as I already owned the previous version. That's cool. Interestingly, many people consider the Scheps Omni Channel the best plugin Waves has ever made and I remembered using it for some tracks in the past. I need to give it a go again but I have so many channel strips these days…
Conclusion
Now that I think of it, this allows me to have multiple setups for mixing and mastering:
one based on the Abbey Road plugins,
one based on SSL plugins,
one based on API plugins,
one based on the CLA compressors,
one based on the Pultec EQ and Fairchild compressor,
one based on the Renaissance plugins,
one based on the Scheps Omni Channel, etc.
And, of course, with the NLS Non-Linear Summer, I now have the SSL 4000G of Mark "Spike" Stent, the EMI TG12345 Mk 4 desk owned by Mike Hedges or the Neve 5116 console custom-made for Yoad Nevo.
And I can now record through the Scheps 73… And, of course, on my master bus, I can have the Puigtec and the Puigchild, not to mention the SSL Buss Compressor.
It's the same for composing. I do now have a number of Waves instruments (Bass Fingers, Bass Slapper, Codex Wavetable Synth, Flow Motion FM Synth and OVox Vocal ReSynthesis) which open a world of possibilities for me.
I'm delighted with my Waves collection. The idea is not to recreate, ahem, reality but to understand how professional musicians and producers work with iconic equipment as well as equipment which push the limit of what is doable today on a computer.
All in all, I legally own more than 90 Waves plugins now. I started in 2018 and it's now 2022. I'm done I think (ha, ha, ha!). Sure, I invested a lot of money over the years but it's a good investment on myself.
I really want to understand, learn and enjoy.