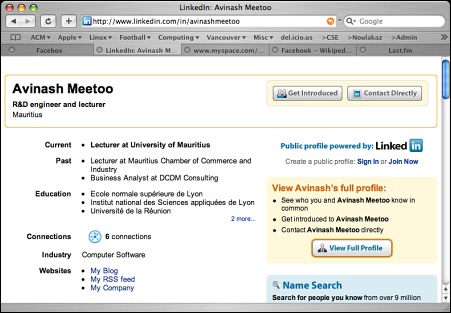 Some extremely prominent people (like Guy Kawasaki) are raving about LinkedIn at this very moment.
According to Wikipedia,
"LinkedIn is a business oriented social networking site, mainly used for professional networking. As of January 2007, it had more than 9 million registered users, spanning 150 industries and more than 400 economic regions (as classified by the service).

The main purpose of the site is to allow registered users to maintain a list of contact details of people they know and trust in business. The people in the list are called Connections. Users can invite anyone (whether a LinkedIn user or not) to become a connection."
LinkedIn seems to be made for two categories of people (overlapping allowed):
those willing to get acquainted with more people
those looking for a better job
I've created my profile (http://www.linkedin.com/in/avinashmeetoo) and I've a couple of contacts. In addition to that, I've just sent 65 invitations to people I know professionally and, believe it or not, I'm watching them add me to their network in real-time.
Personally, I see a lot of value in LinkedIn. What's your opinion?