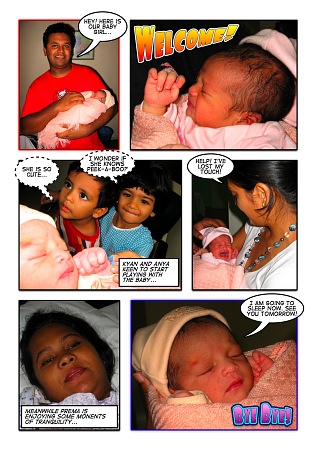 (Click on the image for a bigger version)
Because of the cyclone (which is gone now), I've spent some hours playing with the software I got when I bought my Apple MacBook. One of those is Comic Life which allows you to build comics out of digital photos. As you can see, my first ever comic is on Ashvin's and Prema's new baby (who still has no official name) and, as expected, I had a lot of fun doing it.
Comic Life is fully integrated with iLife. For instance, it fetches photos from iPhoto seamelessly. Another nice feature is the built-in text manipulation and distortion facilities (I've used that for the 'Welcome!' caption). Obviously Comic Life handles balloons (the areas where text appear) with grace.
Incidentally, Comic Life is not the only software you get freely when you buy a Mac. You also get:
You also get Microsoft Office 2004 for Mac Test Drive and a 30-day trial of iWork but I don't need those… except that I've been thinking a lot about Keynote 3 lately as I do a lot of presentations.
Personally, I like the free software very much. They are fun, easy to use and, at the same time, bloody effective. Hey, that's what Apple is :-)