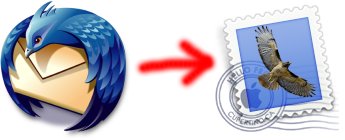 I've migrated all my data (including my documents, my photos, my music files and my mails) from my Kubuntu Linux desktop PC to my new Apple MacBook.
Here is a brief recap:
I transferred the data files using Fugu which is a SSH and SCP client.
I copied my photos (all in JPEG format) to a directory and I imported this whole directory in iPhoto. I had to recreate the directory structure I used in digiKam (i.e. by date / by event etc.) manually. It was not too tough because I had renamed all my photos to YYYY-MM-DD-#####.jpg in Linux beforehand.
I had little difficulty transfering my MP3 collection to a directory which I then imported into iTunes… only to discover that some files had not been transferred by Fugu owing to the presence of "funny" characters in their filename (things like ( or french accented characters). For those files, I had to resort to putting them into a ZIP file manually and then transfering this ZIP to the Mac using Fugu. To unzip, I needed to use the -p parameter to unzip (man unzip for more info).
And finally for the emails in Mozilla Thunderbird, I proceeded as follows:
Compact the emails in Thunderbird
Transfer the Inbox (and Sent) to the Mac using Fugu
Drop each onto Eudora Mailbox Cleaner which, as its name indicates, is a fantastic program to convert emails in the Mozilla Thunderbird format to Apple's Mail format…
Migration done!