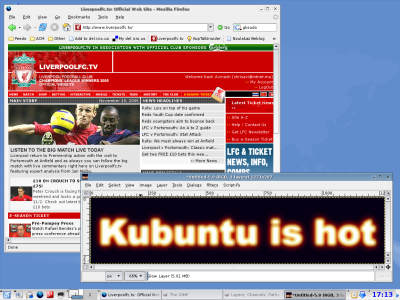 I have (temporarilly) switched to AMD64 Kubuntu Linux from my normal Gentoo Linux. This switch might become permanent if I ultimately find that Kubuntu is better than Gentoo. That's a really tough act as I love Gentoo ;-)
I want to really test Kubuntu (and, hence, Ubuntu) before installating it on Christina's computer at work. I have decided to stick to the official packages. I want to be sure that Kubuntu is perfectly usable without having to download packages from unofficial (and difficult to find) repositories because this is the way I want Christina's computer to be configured…
I have to tell you that I am very satisfied with the progress I've made:
Installation was a breeze. Everything except my ADSL modem was recognised right away.
Configuring the ADSL modem was easy thanks to detailed instructions written by some nice guy.
Firefox and Thunderbird were preinstalled and I had no difficulty importing my setting and files from Gentoo (as I am very knowledgeable :-))
I installed LyX, the rather wonderful document processor that I recommend to all of you, using apt-get which also installed the whole LaTeX infrastructure.
Everything is working really well. Might this switch become permanent? Only time will tell :-)