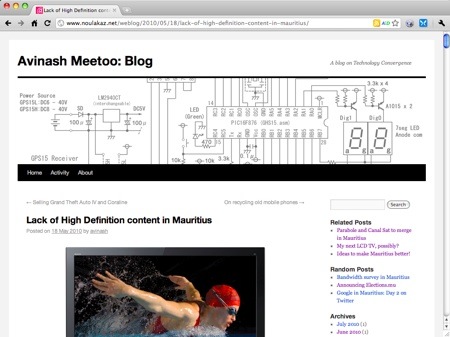 I have just upgraded my weblog to WordPress 3.0 and, as you can see, I have decided to use the new default theme, Twenty Ten, but with a circuit diagram as the header image to reflect the new subtitle which is "A blog on Technology Convergence."
In parallel, I'll continue to blog elsewhere on different topics. For instance, I blog on Knowledge7.com about Information Technology, Computer Science, Personal Development and Career Advancement because, well, this is what Knowledge Seven Ltd is all about. I also blog on Elections.mu on politics in Mauritius including the Government's strategy for IT in the country as well as for our education system. Finally, I also write articles on Open Source on Lugm.org, the official blog of the Linux User Group of Mauritius.
To be frank, I blog less often now. But I try to make my articles more insightful and useful. So it is as demanding as before.
You will notice that I have enabled the
CommentLUV
plugin on Noulakaz.net in order to enhance the interaction between you who regularly leave comments on my blog and me. I also have fewer Google ads on the blog because I am not doing Noulakaz.net because of Google's money.
In fact, and I wrote about this before, I have been blogging for more than 6 years now because this creates the opportunity for me to interact with more interesting people.
Thanks to you all.