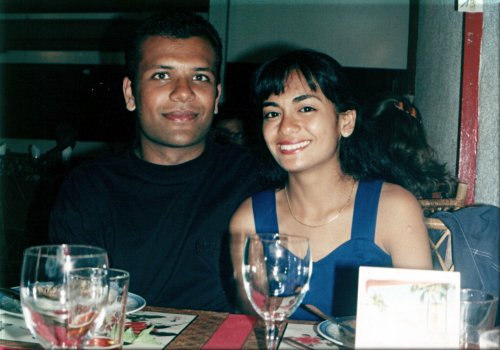 Time flies!
Today Christina and I are celebrating our 13th year together. We met on 11 September 1994 at the university of Réunion Island. I was in 2nd year studying Sciences et Structures de la Matière (aka Maths and Physics) and Christina was starting her first year in Lettres Modernes.
This photo was taken on my 21st birthday in a restaurant in Saint-Denis on the 25th of September 1994.
After about one year, we moved to Lyon in France where I finished my studies in Computer Science while she did a Masters in Information and Communications.
Back to Mauritius
We returned to Mauritius in 1998 and started working in January 1999. We managed to save a little bit of money and we got married in January 2000.
By that time, Christina was already working at the University of Mauritius while I was working at the Mauritius Chamber of Commerce & Industry.
Anya was born in 2002 shortly followed by Kyan in 2004. I joined the University of Mauritius shortly after.
Today, Anya is 5 years old and she is going to start primary school in a few months. Kyan is a strong 3 years old boy.
Christina and I feel exactly the same as we felt in 1994. We might be a little older physically but we have not changed a lot in our heads… That's cool!
What next?
Great things! Stay tuned :-)