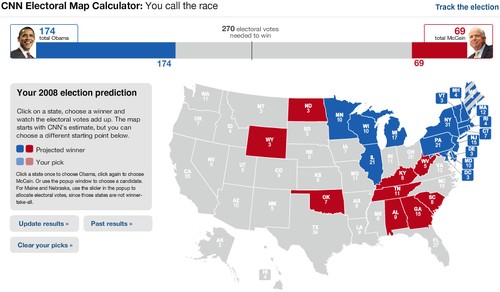 At 7:20 today, based on CNN estimates, Barack Obama has 174 electoral votes and John McCain 69. The first one to reach 270 electoral votes wins.
Signs show that Florida (the infamous Florida from 4 years ago!) might vote for Barack Obama (27 electoral votes). Of course, California (with its 55 electoral votes) has always voted for Democrats. So it seems that Obama will make history in becoming the first non-white American president and this will cause major disruptions in the whole world!
For fun, I fooled around with the CNN online electoral map to come up with this dreadful situation: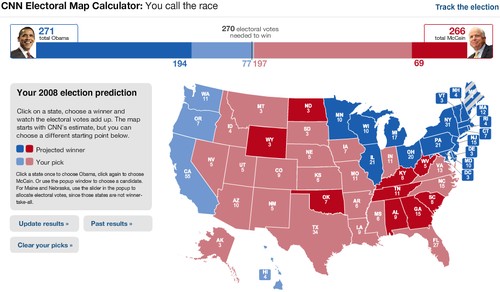 In this worse case situation, Barack Obama still wins! He wins Washington, Oregon and California on the West coast, Hawaii and none whatsoever of the "inside" states and he gets 271 electoral votes: 1 more than the number required to become President of the United States of America.
Alé Barack Obama! Or should I say: "Félicitations Barack Obama!"
[An update: I've created a I want a Mauritian Barack Obama on Facebook. Feel free to join.]