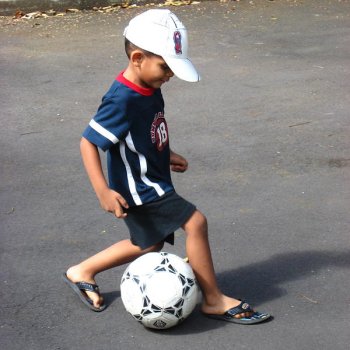 I know. I know. The state of football is not that great in Mauritius. And, to be frank, I don't even know the names of the teams in the 1st division.
I'm writing this blog entry because I got a mail from someone called Piotr Chmielewski (he is from Poland) who writes about football on a website called Afryka. He is currently writing about Mauritian football and would like to have the following information:
What is the best Mauritian team?
Which team has the largest number of supporters?
Who are the stars of Mauritian football?
Who is the biggest star?
What is the current Mauritian national team?
Who are the national team players playing abroad?
Who are those playing locally?
What do you think of our chance to qualify for the 2010 African Cup of Nations?
Can Mauritius beat Cameroon?
Can Mauritius beat Cape Verde?
Can Mauritius beat Tanzania?
Anything else interesting about Mauritian football.
Please feel free to comment. I will consolidate the information I get and send it to Piotr.
My personal opinion
I don't know anything about current teams and players. The biggest star might (still) be Jean-Sébastien Bax. I think we have a chance to qualify for the second round of the ACN 2010 qualifications as one of the second best. We will get beaten by Cameroon (naturally) and beat both Cape Verde and Tanzania at home. We will also be beaten by Cameroon away and we will draw with both Cape Verde and Tanzania on their home soils.
As for the "anything else" part, my feeling is that it's a pity that football is in such a bad shape here. Football is (by far) the largest religion on the planet and I find it sad that most of us know more about Barnsley than the Mauritian National Team…
About the photo above
May I introduce to the world the next Liverpool striker, my son Kyan :-)