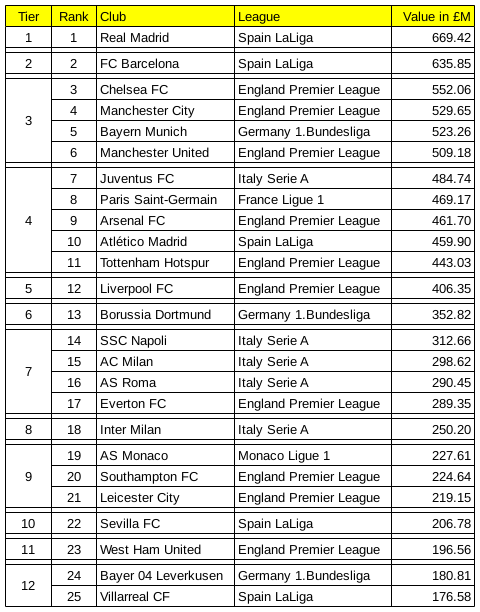 Today, while surfing on the Transfermarkt website, I stumbled upon their list of the most valuable football clubs in the world. What I did was simply to separate the clubs into different tiers where two clubs appear in the same tier if their values are close to one another (I used 5% as a threshold).
Interestingly, we notice the following:
Real Madrid is in a class of its own.
Then follows Barcelona but still alone in its tier.
The 3rd tier is interesting as it includes four clubs: Chelsea, Manchester City, Bayern and Manchester United.
The 4th tier consists of Juventus, Paris Saint-Germain, Arsenal, Athletico Madrid and Tottenham.
In the 5th tier, we find Liverpool only.
Most of these football teams apart from Chelsea, Manchester City and Paris Saint-Germain are historic clubs.
This ranking also puts in perspective the difficulty for teams other than Real Madrid or Barcelona to win the Champions League. And it also explains, of course, why Liverpool still has to invest in a few world class (expensive) players in order to consistently compete against Chelsea, the two Manchester clubs, Arsenal and Tottenham. Jurgen Klopp is right: the time is for Liverpool to buy expensive and established players who can immediately slot in and improve the team. Liverpool should not buy second rate players anymore. Of course, Klopp is also keen to integrate young players from the academy into the first team.
Interesting times ahead for Liverpool. But also, tough ones.