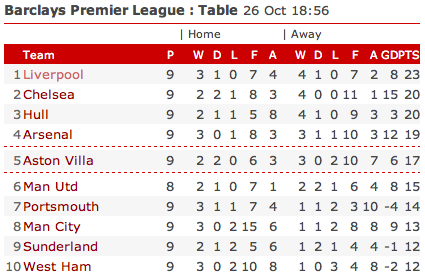 … but I can distinctly hear some Manchester United and Chelsea supporters condescendingly saying that this won't last as they are the only ones to have the divine right to win the Premiership.
Winning the Premiership is easy:
Your team must be among the top four (sorry…) and
It must win most of its matches especially those against the three others (as each match is then a six-pointer.)
This year, Liverpool is playing very badly against weaker opposition (outside the top four) and is winning. But more interestingly, Liverpool is also playing much better than its closest opponents when facing them (for instance, the second half against Manchester United was close to perfection and yesterday's match against Chelsea was a lesson in nullifying opposite attacking players.)
It seems that Rafael Benitez is reproducing what he did in Spain a few years ago with Valencia: build a team (and not 11 individuals) capable of winning against its closest opponents (and this included Real Madrid and Barcelona in Spain.)
Whether he'll manage to make Liverpool win the Premiership is another story as there are about 30 matches left. Personally, I'm confident as I know there is no such thing a divine right to win the Premiership. We all know Chelsea bought that "divine" right with Russian petrodollars. So there isn't anything divine involved.
Simply said, the best team will win.
Rendez-vous around May.