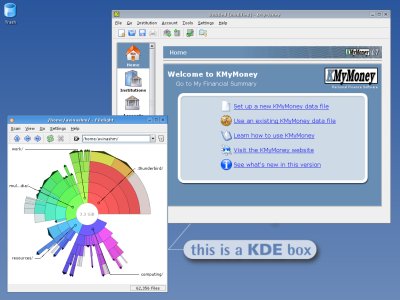 "Il n'y a que les imbeciles qui ne changent jamais d'avis…"
As you can guess by looking at this screenshot, I'm using KDE now (and I'm pleased to tell you that it works perfectly on my Athlon 64 running 64-bits Gentoo Linux). I've rediscovered KDE by accident… which I will relate now :
It all started when I downloaded (out of curiosity) iTunes for Windows which I used to convert my whole CD collection (about 100 CDs) to MP3 format. I was very impressed by iTunes.
I looked for a similar program running under Linux and I quickly found out about AmaroK.
AmaroK was a KDE application and, as I was running Gnome, I tried to find something like AmaroK in Gnomeland.
And I did not succeed… :-)
I quickly realised that there was lots and lots of great KDE applications like AmaroK which I didn't know about because of my fixation on Gnome and Gtk applications. And I was devastated… So, I decided to give KDE a second chance (as I was a previous KDE 2.0 user before switching to Gnome for some unknown reasons).
KDE has become a (nearly) perfect desktop environment. I run version 3.3.2 and everything is beautiful and snappy.
The standard KDE applications are OK but nothing to shout about. Fortunately, I quickly discovered KDE-Apps where I found some very promising KDE apps which I intend now to test :
I am also testing blender which is an open source software for 3D modeling, animation, rendering, post-production, interactive creation and playback. Blender is not a KDE application though.
Aha ! Interesting times ahead !
I'll keep you posted.