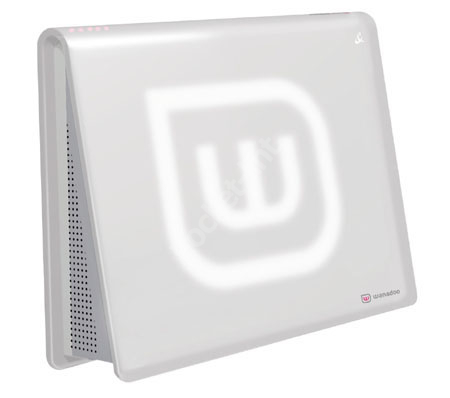 There is an interesting article in today's edition of Week-end on the launch of France Telecom's Livebox in Mauritius next Tuesday.
From the Livebox manual, here are its main caracteristics:
High performance, secured bridge/router with ADSL interface,
Ethernet 10/100BT, USB1.1, 802.11b/g (Wi-fi) and Bluetooth user ports,
DHCP server, DNS relay,
NAT/PAT router – FTP, IRC, Net2Phone, Netbios, DNS, Netmeeting H.323, SIP, RTSP, MGCP (RFC 3134), VPN passthrough (IPSec, IKE, PPTP, L2TP), CUSeeMe, RealAudio, AOL, Microsoft IM and other compatibilities,
Firewall,
Quality of service (QoS) management for protecting sensitive flows such as Voice over IP,
H.323 Voice over IP,
HTTP server for easy configuration,
FTP server for software updating.
Looks like a very decent list of features to me. According to Week-end, these services will be offered in Mauritius as from next week:
TV (TV5, Doordarshan, BBC World, CCTV9, B4U music, MTV, MBC1 and MBC digital 6)
"Broadband" Internet access (I suppose the existing 128, 512 and 1024Kbit/s offers)
Internet Telephony (to be confirmed…)
Video on demand (from a limited selection of films)
By using some magic incantations, Week-end has come up with a fixed fee of around Rs. 1000 to Rs 1500 for subscribing to the service. They have also announced that it will cost around Rs. 10 to Rs. 50 to rent a film for one day. In my opininion, Internet Telephony will also be separately charged (or restricted to some specific countries). In some countries, the Bluetooth antenna is disabled and a transfer limit is imposed for the Internet connection.
I'll post an update on Tuesday. Let's all cross our fingers ;-)
First update 11 July
A nice lady from Telecom Plus has called me today and has offered me the Livebox at the same price I'm paying ADSL right now, that is Rs. 950+VAT (i.e a little over Rs. 1000 for 128Kbit/s). A Telecom Plus salesman/technician will come at my place tomorrow for a demo of the Livebox. I'll keep you posted.
Second update 12 July
Two salesmen (so only salestalk and not a real demo) from Mauritius Telecom came to my house today (notice not Telecom Plus) and offered me the MY.T service at exactly the same price I'm paying ADSL 128 (i.e. Rs. 950+VAT). I get:
A Livebox ADSL modem with Wifi / Bluetooth / Ethernet at 256kbit/s (twice my 128kbit/s bandwidth!!!) and 2Mbit/s (for local servers i.e. servers physically found in Mauritius!!!)
A set-top-box for the MBC + TNT channels (using a normal aerial) and the Video on Demand (obtained from the Livebox)
Rs. 500 to buy films using the Video on Demand capabilities of the Livebox
No VoIP for the time being but only preferential rates (for example, Rs. 6+VAT per minute for France using a normal analog phone)
Lots of pros, isn't it? Twice my previous ADSL bandwidth! A set-top-box for TNT! But, unfortunately, there is one massive catch:
Internet data transfer is limited to 1Gb per month. Every additional Mb costs Rs. 0.50 up to Rs. 910 (around 2Gb)
Personally, I don't care as I don't indulge in piracy. But I know a lot of people that won't like this "feature" a lot :-)
Technicians will come for the installation in (maximum) 5 days. I'll keep you posted.
Third update 14 July
Another lady called me today and told me that MT technicians will come to my place on Monday (17 July) to install the Livebox and the set-top-box. As usual, I'll keep you posted.