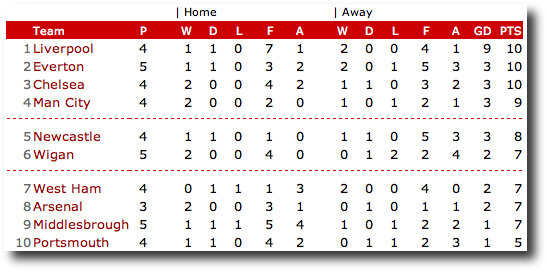 I've just watched Liverpool destroy Derby 6-0. Liverpool has played four matches and, normally, should have won all of them but Mr Styles thought otherwise… This is not as big an issue though as Liverpool is now top of the Premiership.
Liverpool already had the best defense and midfield in England. Now we have the best attack: Peter Crouch, Dirk Kuyt, Fernando Torres and Andriy Voronin. 11 goals in 4 matches is a good return on investment, don't you think so?
I believe Liverpool will win its 19th Premiership title at the end of the season. If you really want to know why, it's because Liverpool has for, the first time in more than one decade, the best squad among all the teams in England.
Number 19 is coming home :-)