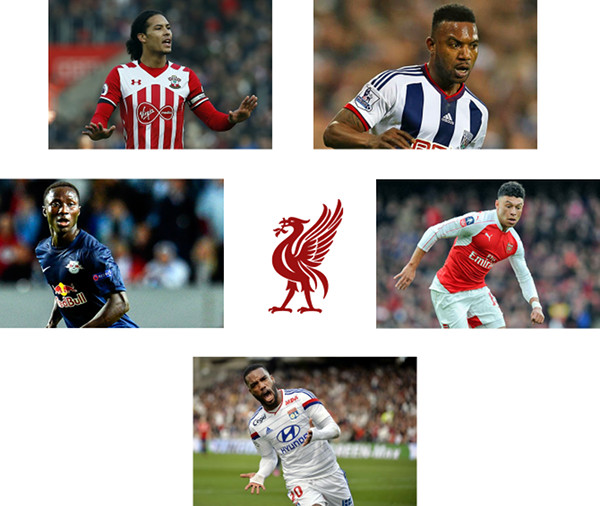 I wonder who Liverpool is going to buy in the next transfer window. Rumours indicate that Jürgen Klopp has been given a substantial amount of money (of the order of 200 million pounds) to strengthen the team.
It is clear that the defense has leaked too many goals and not all of them can be blamed on goalkeepers. Virgil van Dijk would be a very good centre back to buy but will not come cheap as he is having a great season in Southampton and is considered to be among the best in his position in the Premier League. James Milner is neither a defender nor left footed and, even though he has performed admirably this season, he is really a central midfielder. A very good left back is Stéphane Sessègnon, who currently plays for Montpellier, but who has played five years in England already. I was mistaken. Liverpool is not looking at Stéphane Sessègnon, who is an attacking midfielder, but rather Ryan Sessegnon who is a 16 years-old playing for Fulham in the 2nd division. He played 23 times this season scoring 5 goals and, according to online sources, is one of the top targets for Liverpool for the next season.
The midfield of Liverpool is already very capable (with players such as Henderson, Can and Lallana) but looks a bit thin. The youngsters in the first team are still very young and oldies like Lucas are on the verge of departing. An excellent central midfielder is Naby Keïta who currently plays for RB Leipzig in the Bundesliga. He is a box-to-box midfielder, passes very well and scores too (similar to Steven Gerrard). Another good acquisition would be Alex Oxlade-Chamberlain, the dynamic Arsenal player who already has played 25 times for England. He is a powerful winger who can provide cover for players such as Sadio Mané.
Finally, as Daniel Sturridge is most probably leaving, Liverpool needs a goal scorer. Alexandre Lacazette would be close to perfect but won't come cheap. He has been playing for Olympique Lyon for the past seven years and would most probably be interested to try his luck in the Premier League. He is a potent striker with 96 goals scored in 200 matches. Of course, the French leagues is far from being as competitive as the Premier League but Alexandre Lacazette has bags of talent.
To summarise, here are five players who can make Liverpool move up one level and, dare I say, become as strong as Chelsea: Virgil van Dijk (CB), Stéphane Ryan Sessegnon (LB), Naby Keïta (DM), Alex Oxlade-Chamberlain (AM) and Alexandre Lacazette (FW).
How many of them will Liverpool get? No one knows. Might be 0. Might be 5. And anything else in the middle…