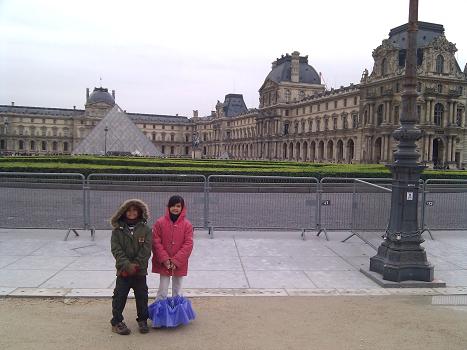 As I've mentioned in my previous post, Kyan, Anya and myself have managed to secure a 10-year visa for the USA and we're leaving this coming Friday 8 April for San Francisco.
Until then, we've decided to visit Paris like, you know, tourists.
I have to say that TripAdvisor has been very useful in helping us choose what to visit. For instance, today, I brought the kids to Sacré Coeur which is a beautiful church on a hilltop from which you can see see the whole of Paris. There were lots of clouds (and the temperature was around 15 degrees) but, still, Kyan and Anya were delighted.
From Sacré Coeur, we walked through Montmartre and took the metro to Place de la Concorde. From there, we went through the Jardin des Tuilleries to the Louvre Museum. Along the route, we saw some magnificent gardens. The flowers were amazing even though spring has barely started.
We decided not to visit the Louvre Museum because, on our way back from the USA, we'll come back to France for a few days with Christina. We're keeping the nice bits for her.
Paris vs Mauritius
Our small island is a great island with beautiful places and great things to do… like Paris. A lot of Parisians are in love with their city and will do everything to make it better. For example, Parisians make it a must to keep their city clean (despite the pigeons and the dogs…) and they are extremely corteous (everyone says "Bonjour" and "Merci" in Paris and all drivers stop to let people cross the road — it's amazing).
In Mauritius, nature has been generous to us except that, we, Mauritians (and this includes yours truly), are not really clean (in the sense that we don't mind throwing our dhol puree papers everywhere) and we are not known for our courtesy (just watch the drivers).
I was talking to my uncle who has been living in Paris for years now and he was telling me that those things need to be taught in school. I wholeheartly agree. Let's cut half an hour of differentiation and integration and let's teach people to be corteous and friendly to each other.
What do you think?