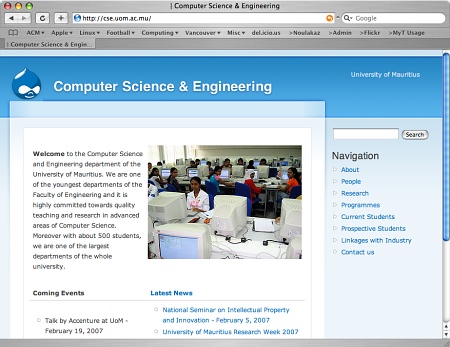 I'm happy to announce the official launch of Computer Science & Engineering departmental website of the University of Mauritius.
The URL is extremely easy to remember. It's http://cse.uom.ac.mu/
About the website
This website has been built over a period of two months by members of the CSE Website Subcommittee which I chair. The other members are Pascal GROSSET, Begum DURGAHEE, Dr Shakuntala BAICHOO, Sheeba ARMOOGUM and Soulakshmee GHURBHURRUN.
We have tried to cater for a varied public. You'll find pages relevant to:
Current students
Prospective students
UoM academic staff
Academic staff from other universities
People from the business sector
Journalists
and members of the public at large…
The initial content is relatively complete and it's bound to become better as time passes. Don't hesitate to contact me if you have any suggestion.
Incidentally, I have done most of the photos on the website using my new Canon A540 digital camera with some processing courtesy of my Apple MacBook.
Technical details
The website is powered by the Drupal content management system, uses some custom PHP scripts, manages its data in a PostgreSQL database and runs on the Apache web server and Kubuntu Linux operating system.
I guess this is a good indication that opensource is now playing a major role in the CSE department…
I am happy ;-)