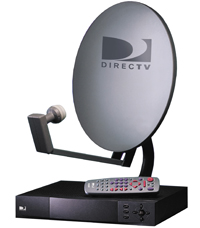 This is the last part of my ramblings about setting up a home cinema system. Today, I'll talk about the necessity of subscribing to Satellite TV.
The local TV channels are state-owned and state-controlled in Mauritius. Therefore either (1) they are crap due to lack of creativity and/or guts or (2) they are politically-biased. You choose…
Basically, I don't watch DVD all the time (I only watch a film, say, 1-2 times a week because of the kids. So, I personally need Satellite TV as I can't stand the local channels. I can also add that the picture quality and the sound is better than average (but very far from what you have on a DVD).
In Mauritius, there are three competitors in this field, CanalSat, Parabole Maurice (of TPS fame) and DSTV.
I don't know much about DSTV but I've been a subscriber of CanalSat and Parabole Maurice for more than one year now. I've just decided to cancel my subscription to CanalSat for two reasons (1) I can't afford 2 satellite subscriptions and (2) I like Parabole Maurice more because of its dedicated English football channels.
I have many sport channels (among which Supersport 3, Eurosport, TPS Foot and TPS Star Direct) where all English football matches are shown.
I also have specific channels for cinema (in stereo only), entertainment, education, kids and news.
I pay Rs. 1334 monthly for Parabole Maurice. It's expensive, I know…