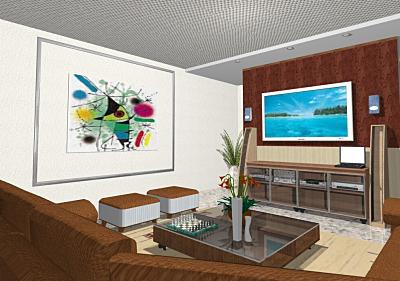 I'll start with something obvious. Building (or buying) a fantastic home cinema setup (like the one pictured above) is out of the question in Mauritius because excellent audio and video components (1) are difficult to find and (2) are very expensive.
Nevertheless, it is possible to have a nice entry-level home cinema setup for a relatively modest price if you know what and where to shop. My personal system, while relatively cheap, has given me lots of satisfaction. Here's a rundown of the equipment I have and the price I bought them:
a Kenwood home cinema amplifier (Rs. 9500 in Hong-Kong)
a set of 5 Pioneer speakers (Rs. 5000 in a sale)
a Samsung 29″ TV (Rs. 8500 second-hand)
a Philips DVD player (Rs. 3000)
a Parabole Maurice satellite subscription (Rs. 1350 montly)
trunking and cabling (say Rs. 1000)

Today, I'll talk of my home cinema amplifier, the mighty Kenwood KRF-7030D. My sister-in-law bought mine in Hong-Kong 2-3 years ago at Rs. 9500. The amplifier was reviewed in August 2000 by Home Cinema Choice and won a Best-Buy award.
I like the fact that the Kenwood is powerful (5 x 100W power output). This is important if you want to have a realistic soundstage with explosions, gun-shots and F-16 fighters passing over you. I also like the fact that it handles DTS and Dolby Digital 5.1 with equal ease. For the uninitiated, these are the two competing technologies used to store audio on normal DVDs. Both are equally good even though, personally, I tend to choose DTS over Dolby Digital. Finally, it also features an FM radio which I don't use as I listen to the radio only in my kitchen and in my car.
Now, for the crucial aspect : when buying a home cinema amplifier, you must always buy one with the most connections around the back. The reason being to prepare for the future. In this area, the Kenwood, even though it is budget-priced, is impressive: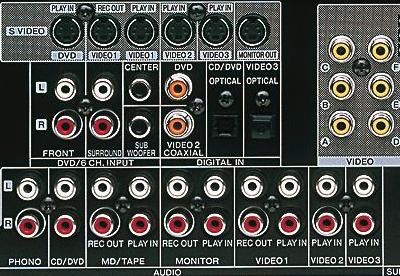 There are lots of inputs and outputs:
DVD (S-Video and Composite video; Digital and 6 channels audio inputs)
Video-1 (S-Video and Composite video; inputs and outputs for analog audio)
Video-2 (S-Video and Composite video; Digital and analog audio)
Video-3 (S-Video and Composite video; Digital and analog audio)
CD (Digital and analog audio)
Tape (inputs and outputs for analog audio)
Phono (analog audio)
Auxillary (S-Video and Composite video; analog audio on front-panel)
As you can see, the sky is the limit… In my personal setup, my DVD is, predictably, hooked up to the DVD connections, my VHS VCR (which, conceptually, is not part of my home cinema setup…) is connected to Video-1 and my satellite decoder connects to Video-2. So there are lots of inputs left for my future DVD recorder or Digital TV :-)
In the next article, I'll talk about the set of 5 Pioneers speakers I use and the way to correctly set them to have the nicest sound.