This third blog post is about our discovery of the Netherlands, especially Amsterdam.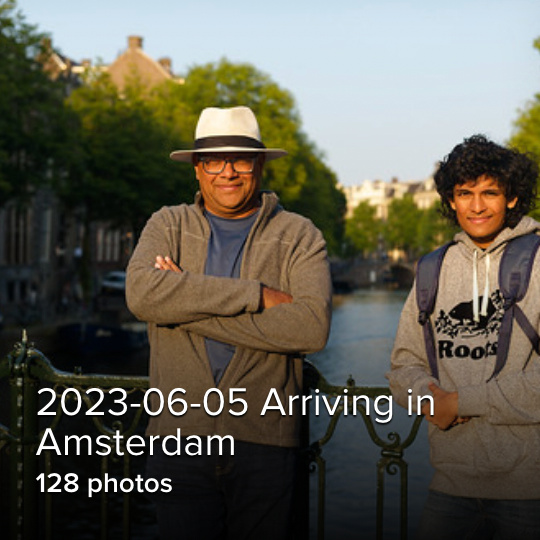 On 5 June 2023, we took an ICE train from Köln in Germany and arrived in Amsterdam at 15:30. We quickly took a metro to our hotel and rested a bit. At 19:30, we left for the city centre and walked along the beautiful canals and buildings on our way to a well-rated, nice and cosy restaurant called Meat & Greek. We had been advised to sample different kinds of international cuisine in Amsterdam and this is what we intended to do.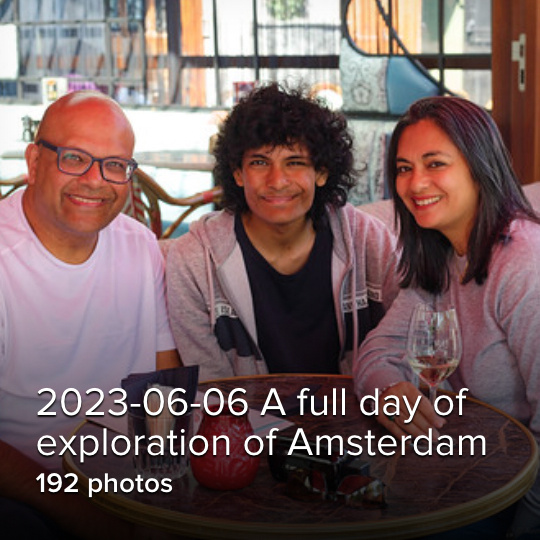 On the next day, we had a copious breakfast in our hotel and left for city centre. Our first stop was at MIDI Amsterdam, a small but extremely well equipped shop specialised in professional audio equipment. We had a great conversation with the owner, Tim Niewenhuis. We then headed towards the area where the most well-known museums are. We had some drinks in a nice café.
At 16:30, we decided to rent bikes (as Amsterdam is renowned for being the most bike-friendly city on earth). We rented two bikes: one single for Kyan and a tandem for Christina and I. But, for reasons which we are still trying to understand, after just one minute, we got separated from Kyan! Fortunately, after two hours of cycling, we all managed to meet at the hotel, where we left the bicycles for the night. I have to say that Google Maps works great even without an Internet connection but one needs to download a map of the area beforehand. Of course, we had to take some detours and got a bit confused at times…
After freshening up, we headed back to the city centre for a wine and cheese cruise on the famous Amsterdam canals with a company called Flagship Amsterdam. Being avid photographers, we knew that, at 20:00, the light would be beautiful. The explanation provided by the two lady crew members, one from Amsterdam and one from Montélimar in France, was very interesting. The cruise was one hour long and we felt that it could have been a bit longer as there was so much to see along the canals.
At the end of the evening, we had a quick dinner at De Hallen and we returned to our hotel a bit before midnight.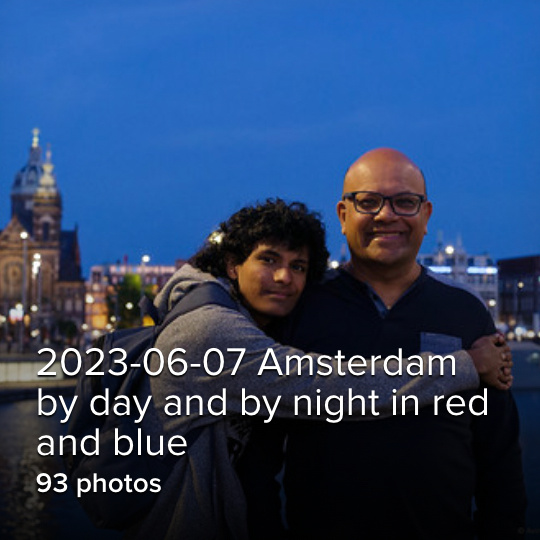 On 7 June, after another copious brunch, we left the hotel on our bikes for the city centre. The return leg was nice: we rode together and took a free ferry from the northern part of the city (where our hotel is) to the city centre. We dropped the bikes and returned to the hotel to freshen up. In the evening, we had dinner in an Indonesian restaurant called Kartika and the food was delicious. We loved the atmosphere and decoration. The staff were really nice.
After dinner, we walked towards the Red Light District of Amsterdam and caught some glimpses… By then, the sun had set and the sky was blue.
We all loved Amsterdam. It is dynamic and fun.
We would leave for France the next day.