This second blog post is about our discovery of Germany, especially Siegburg, Köln and Düsseldorf.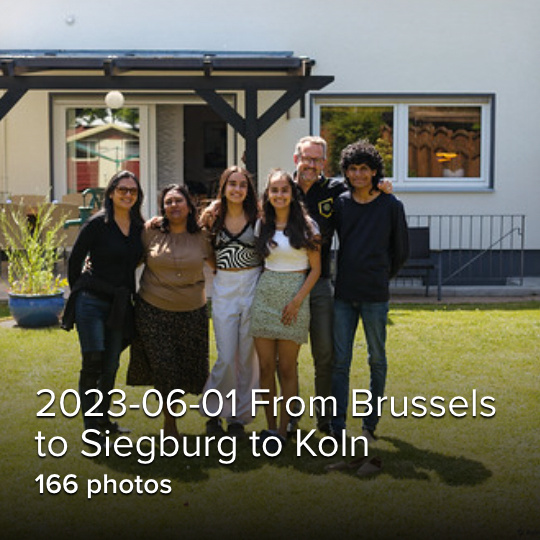 On the 1st of June, we left Brussels in the cold morning and took an ICE train (which is the German variant of the French TGV). We arrived at Siegburg at 10:45 where Jyotsna, Christina's best friend, and her husband Dirk welcomed us warmly. Together, after a tasty and copious brunch, we visited the beautiful town of Siegburg, which is near Bonn. We climbed to the Michaelsberg Abbey where Jyotsna and Dirk had got married some twenty years ago. The view was fantastic. We then went to their home where we met their two daughters, Nandita and Johanna.
In the evening, we headed to Köln which is about 35 km from Siegburg. There, we had some Kölsch beer in a Pfaffen brewery. Then, we visited Kölner Dom, a majestic cathedral which is the largest Gothic church in Northern Europe. We had dinner in a traditional German restaurant called Früh. We loved the German food as well as the beer.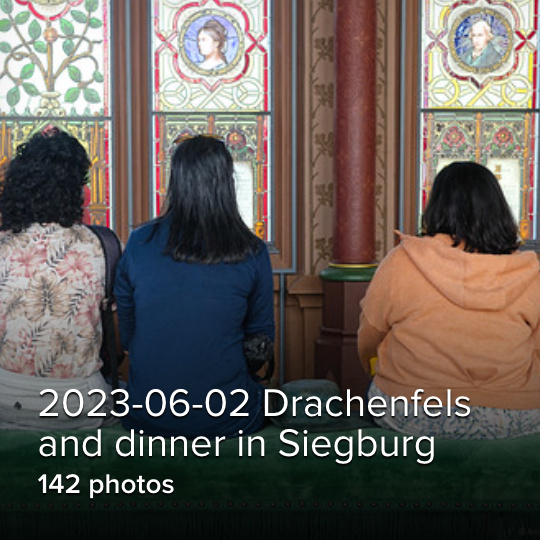 The next day, we set for Drachenfels hill. On the way to the top of the hill, we stopped by Drachenfels Castle whose interior was impressive. At the very top, the scenery was magnificent and called for some drinks, including Aperol Spritz and ice-cold beers. We took a mountain cable car to get back down and returned to Siegburg. There, we had a wonderful barbecue and sampled some fantastic drinks.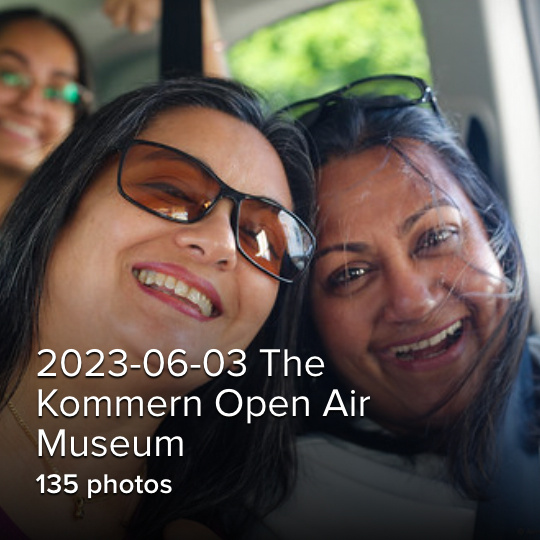 On 3rd June, we spent the whole day with Dirk, Jyotsna, Nandita and Johanna visiting the Kommern Open Air Museum. According to Wikipedia, it is one of the largest open air museums in Europe, covering an area of over 95 hectares and displaying around 67 historic buildings from the Prussian Rhine Province. Dirk was our guide and explained from which parts of Germany the various buildings originally came from. We returned to Siegburg around 20:00, just in time to watch the DFB-Pokal German football cup final between RB Leipzig and Eintracht Frankfurt. At night, we ate a delicious Mauritian meal courtesy of Jyotsna.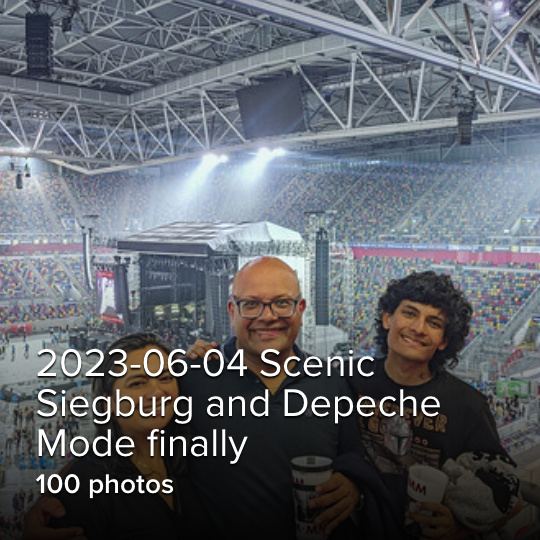 The 4th of June started calmly. We took some bicycles, one of them being an e-bike, and rode into the woods. We enjoyed the view onto a beautiful lake. At 16:00, we had an early dinner so that we could all leave for Düsseldorf at 17:30. We reached the Merkur Spiel-Arena at 19:00 for our first ever Depeche Mode live concert. We met Sandra, a good friend of Jyotsna and Dirk there.
I have been a fan of Depeche Mode for 38 years, since 1985, and, to be able to see Dave Gahan and Martin Gore perform live was one of essential item on my bucket list. Christina discovered Depeche Mode when we met in Réunion in 1994 and has also been a fan since. And, of course, Anya and Kyan were born into fandom. The concert started around 19:30 with Young Fathers, a Scottish band, as support act. Depeche Mode started at 21:00 and performed for two hours. We all loved the concert and the performance was great. At the end of the show, I told Christina that I felt like watching old friends perform. She agreed. We left Düsseldorf quite late in heavy traffic and reached Siegburg around 1:30 in the morning.
Big thanks to Dirk, Jyotsna, Nandita and Johanna for having welcomed us in their home and made us discover how beautiful Germany is.
We would leave for the Netherlands the next day.