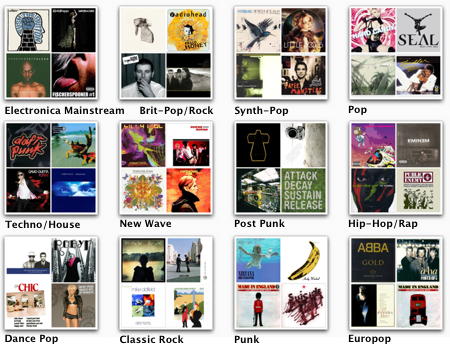 I own an Apple iPod Nano and I use it mostly everyday to listen to music in the car. I add that I also use iTunes to manage my music collection and I like it a lot.
A few months ago, I stumbled upon a new feature of iTunes called Genius Mix which essentially "explores your library and finds songs that go great together." The major issue was that Genius Mix requires an iTunes store account which, well, we, Mauritians, can't have… except that Mauritius Telecom has been nice enough to explain how to get one, ahem, obliquely.
I am happy to say that Genius Mix works fantastically well. It works by analysing the numerous playlists being created by real human beings all other the planet and being submitted to the iTunes store. Then Genius Mix builds similar playlists locally using songs found in your library only (of course.)
When I launch iTunes now, I am greeted with the selection shown above and I can easily choose whether to indulge into some Electronica, Brit-Pop/Rock, Synth-Pop, Pop, Techno/House, New Wave, Post Punk, Hip-Hop/Rap, Dance Pop, Classic Rock, Punk or Europop.
Life is cool. I have my own DJ. And she knows what I like.