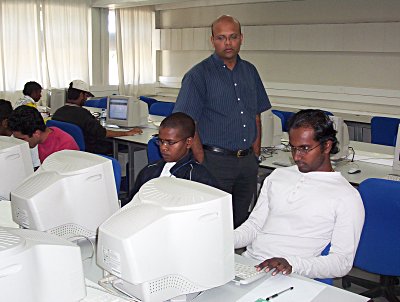 MAJOR UPDATE: Data Communications Ltd.'s CEA, Mr Ganesh Ramalingum has just announced that his company will bear all the costs. We have our sponsor! We are going to India!
The Association for Computing Machinery (ACM) is one of the largest professional bodies of computer scientists in the world. Every year, ACM organises an international computer programming contest where the best undergraduate students from major universities compete against each other. Quoting the official factsheet:
"The contest fosters creativity, teamwork, and innovation in building new software programs, and enables students to test their ability to perform under pressure. Quite simply, it is the oldest, largest, and most prestigious programming contest in the world."
The annual event is comprised of several levels of competition:
Local Contest – The Department of Computer Science & Engineering of the University of Mauritius held a local programming contest on 11/10/2006 to select one team of three students to represent the University at the next level of competition. The selected team consists of Madhav Ramlagun (BSc Information Systems Year I), Yannick Catherine and Rajiv Perseedoss (both in BSc Computer Science & Engineering Year III) and is coached by me, Avinash Meetoo (Lecturer in Computer Science).
Preliminary Online Contest – The Indian Institute of Technology in Kanpur, India, is one of the major universities organising a Regional Contest (in this case, for the Asia region). All the teams participating in the Regional Contest had to qualify during a Preliminary Online Contest. The University agreed to pay a $100 registration fee for this online contest held on 11/11/2006 and our team succeeded in qualifying for the next level. An official confirmation was received from IIT Kanpur on 15/11/2006. Details are available here.
Kanpur Regional Contest – 45 teams representing 8 countries (Bangladesh, China, India, Pakistan, Singapore, Sri Lanka, Taiwan and Mauritius) will participate in the Kanpur Regional Contest to be held in Kanpur, India, on 9-10 December 2006 (in about three weeks). It is the first time a team from Mauritius is eligible to participate in such a prestigious contest. The winning team will be selected for the World Finals to be held in March 2007 in Tokyo, Japan.
During a departmental meeting on 15/11/2006, we estimated the cost for participating in the Kanpur Regional Contest to be:
| | |
| --- | --- |
| Airline tickets to Delhi | 100,000 Mauritian Rupees |
| Train from Delhi to Kanpur | 5,000 Mauritian Rupees |
| Stipend (for a 5 day journey) | 15,000 Mauritian Rupees |
| Total | 120,000 Mauritian Rupees |
Lodging will be provided by IIT Kanpur.
The University of Mauritius will pay for part of the cost but we really need sponsors for financing the rest.
So, if you think you can help, don't hesitate to contact me as quickly as possible (because of the deadline) at:
Avinash Meetoo

Lecturer in Computer Science,
Department of Computer Science and Engineering,
Faculty of Engineering,
University of Mauritius.

Tel: 454-1041 ext 1392.
Mobile: 493-9394.
Email:
We really need some sponsors. Of course, we will strive to have a win-win situation. And, of course, this event will be covered by the regular media.
By the way, we are also looking for a rendez-vous with Hon. Etienne Sinatambou, Minister of Information Technology and Telecommunications. So we'll be glad if someone can help us arrange such a meeting.
Naturally, we are also using the normal channels…
Feel free to publicise. Thanks a lot.