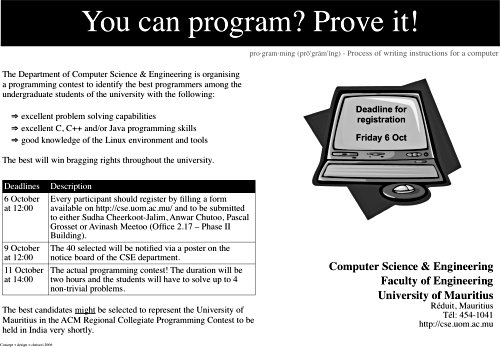 I'm happy to announce the CSE Programming Contest that I am organising together with my colleagues Sudha Cheerkoot-Jalim, Anwar Chutoo and Pascal Grosset.
Please get the official announcement then fill in the registration form and return it to us by this Friday.
The registration is open to any undergraduate student from the University of Mauritius (including non-CSE students) but we will have to choose (using some magic formula) 40 students to participate in the contest on the 11th of October 2006 at 14:00 as our biggest lab (the MCID Lab) can only accomodate that number of students.
Please note that each of the 40 selected will have a Kubuntu Linux PC with ISO C/C++ and Java 5.0 compilers. Eclipse (with CDT) will also be installed but, of course, one can also use vi or emacs or kate (etc.) and the command line.
The problems will be really tough… but fun to solve! And we have not yet decided about the prize (if any…)
Good luck!