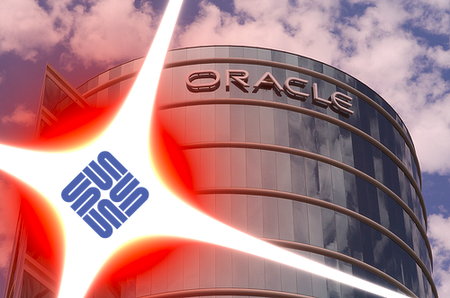 Sun Microsystems and Oracle Corporation announced today they have entered into a definitive agreement under which Oracle will acquire Sun common stock for $9.50 per share in cash. The transaction is valued at approximately $7.4 billion.
Oracle gets (among other things):
Java (including NetBeans)
Solaris
MySQL
SPARC
VirtualBox
Oracle already has:
Oracle database
Oracle application server
JDeveloper and SQL Developer
eBusiness Suite / Peoplesoft / Siebel / J.D. Edwards
Unbreakable Linux (which is an Oracle-supported Redhat Enterprise Linux)
I wonder what the Google, IBM and Microsoft guys are thinking right now… This acquisition has the potential to be a masterstroke in our era of utility computing:
Utility computing is the packaging of computing resources, such as computation and storage, as a metered service similar to a traditional public utility (such as electricity, water, natural gas, or telephone network). This system has the advantage of a low or no initial cost to acquire hardware; instead, computational resources are essentially rented. Customers with very large computations or a sudden peak in demand can also avoid the delays that would result from physically acquiring and assembling a large number of computers.
and cloud computing:
Cloud computing is a style of computing in which dynamically scalable and often virtualised resources are provided as a service over the Internet. Users need not have knowledge of, expertise in, or control over the technology infrastructure "in the cloud" that supports them. The concept incorporates infrastructure as a service (IaaS), platform as a service (PaaS) and software as a service (SaaS) as well as Web 2.0 and other recent technology trends that have the common theme of reliance on the Internet for satisfying the computing needs of the users.
I can easily imagine Oracle using hardware technology from Sun and Solaris to provide utility computing services (Sun already has a grid.) And, of course, I can easily imagine Oracle deploying its business suites (eBusiness Suite / Peoplesoft / Siebel / J.D. Edwards) and a lot of other applications on that infrastructure.
Exciting times ahead. Let's hope that everything which is open source remains truly open source.