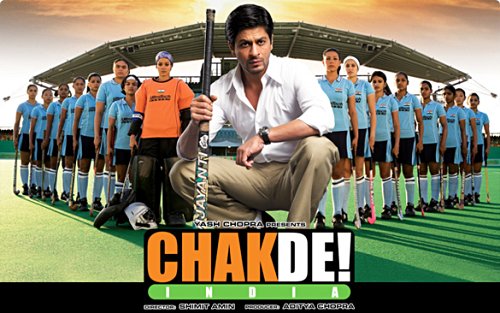 I've just finished watching Chak De India for the second time. And I have to say that I love this film!
I have a confidence to make: I normally don't watch Bollywood films. A cousin of mine, Nishal, managed to convince me that Chak De India was really worth watching and I really don't regret listening to him.
The film is about the women's hockey team of India winning the world cup against all odds. That's it. Nothing too complex. But it is excellent. It has pace and feels real (and this is exceptional for a Bollywood film which tend to be, ahem, surrealist). The casting is really excellent too with a good Shahrukh Khan and 16 fantastic (young) actresses (kudos to all of them).
I was watching the second DVD containing some extras including the UK premiere where Shahrukh Khan was asked his own definition of patriotism by a journalist. Without thinking, he answered (I'm paraphrasing here):
"Patriotism is when you do your best to succeed in whatever field you are. It has nothing to do with holding the flag of your country and singing glorious songs."
Maybe our leaders can be inspired by this for the celebration of the 40th anniversary of the independence of Mauritius and come up with something that will really inspire our youngsters (and also the not-so-young) to achieve greatness.
Or maybe they wont and we'll have to suffer yet another flag-raising ceremony followed by its usual "fête culturel".
What do you think we should do for the 12th of March?