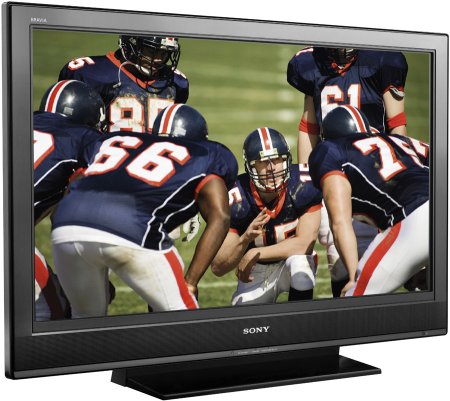 My current Samsung TV is working fine.
But one of these days, I think I'll replace it with the gorgeous Sony Bravia KDL-32S3000 LCD TV pictured above.
It's beautiful, it's feature complete (HDMI, 720p and Widescreen) and is currently being sold at around $900 in the US.
The only slight issue is the lack of high definition content in Mauritius. As indicated in the TV's manual (which I've, of course, downloaded and read cover to cover), the TV accepts the following HD signals:
Over-the-air broadcasting via HD-quality antenna. MBC broadcasting HD signals?!? Forget it.
HD cable subscription. Not available here.
HD satellite subscription. I am not too sure that this is a priority either from Parabole Océan Indien or Canal Satellite. I have a Parabole Maurice subscription and I don't have access to films in English. I am forced to watch (mostly) everything in French which is crap as I tend to watch a lot of American and English movies. So if they don't feel that having two audio streams is important I doubt they'll bother with an HD video stream which is bound to use a much higher amount of bandwidth. My guess is that we won't have HD satellite programs here for at least 2-3 years.
Blu-ray Disc player or other external equipment. I don't think I'll buy a Blu-ray or a HD-DVD player soon (but who knows?). I don't also intend to buy a PS3 or an XBOX 360. So there is only the Apple TV left. I am thinking of getting one to host all my media files (audio, photos, videos of the family and some movies) but I'll have to convert all my video files to H264 first… which I'll have to do as I fear that the (cheap) DVD-R I used to store my home videos won't last for ever.
Seem a little bit limited for the time being, isn't it?