3-4 May 2018: Arriving in Athens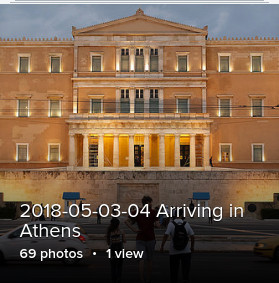 We have traveled quite a lot but we didn't expect to visit Greece and Turkey this year. It so happened that Christina got an opportunity to conduct a class in Panteion University in Athens on an Erasmus exchange programme and I decided to accompany her. We went to a travel agent who advised us to take a direct Turkish Airline flight to Istanbul then transit to Athens. Naturally, we decided, on our way back, to stay a few days in Istanbul too.
We left Mauritius on 3 May and arrived at the Athens International Airport at around 10:00 in the morning on the next day. We took the metro to arrive in the center of Athens, Syntagma Square, about 40 minutes later. We reached our hotel, Hotel Nefeli, at 11:00 where we left our luggage to go out for lunch. We went to Cafe Antonis where we had our first taste of Greek Souvlaki, small pieces of meat grilled on a skewer served with pita bread, french fries and dips. We returned to the hotel to sleep a bit.
In the evening, we went to a tiny restaurant called Aspro Alogo where Christina had a moussaka and I had yet another but bigger souvlaki. We also had our first taste of Greek beer, Vergina, and it was good. At the end, the very friendly owner offered us, courtesy of the house: desert, Mastika liqueur, juice and bottles of water! I wonder when I'll witness something similar here in Mauritius…
After dinner, we took the metro to Acropolis station (and, in retrospect, we could have walked) to look at the illuminated Parthenon at night. We also saw a number of other architectural masterpieces. On our way back to our hotel, we kept reflecting on how a common history helps in creating an identity and a cohesive society. Athenians are proud of their ancient history.
5 May 2018: The Acropolis and the Parthenon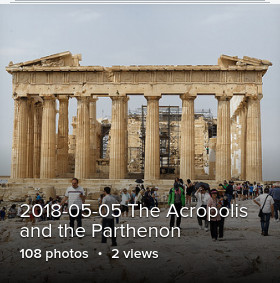 6 May 2018: The island of Aegina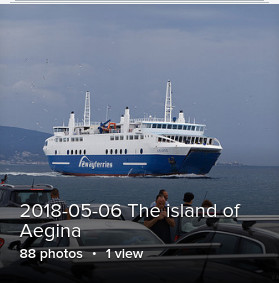 7 May 2018: Walking in Athens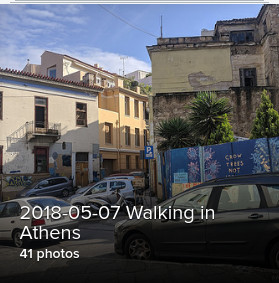 8 May 2018: Discovering Panteion University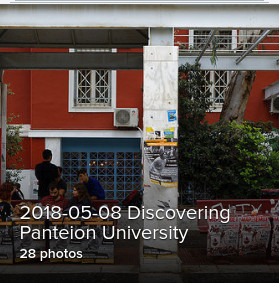 9 May 2018: Exploring Athens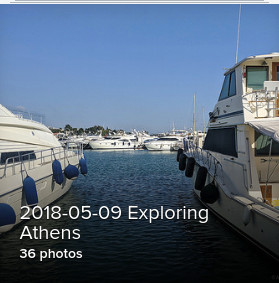 10 May 2018: Leaving Athens and arriving in Istanbul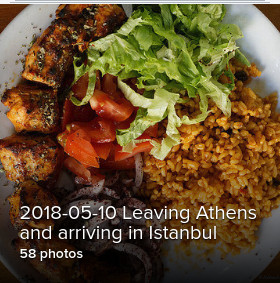 11 May 2018: Topkapi Palace and Hagia Sophia museums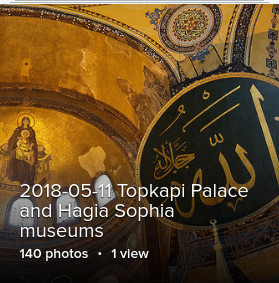 12 May 2018: The Grand Bazaar and Forum Istanbul

13 May 2018: Cruise on the Bosphorus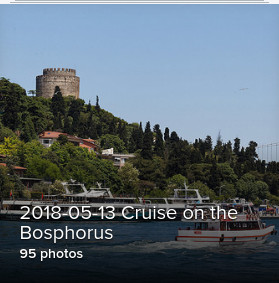 14-15 May 2018: Leaving Istanbul and back to Mauritius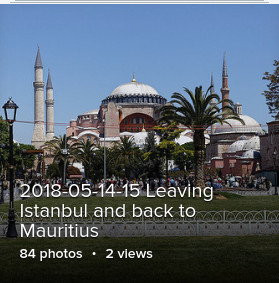 Istanbul was a marvel too. There were so many beautiful places to visit, really excellent food and we loved the energy there during the day: people were always on the move. But, as soon as night fell and the muezzin called for prayer, the atmosphere and the colours changed completely. We'll definitely go back to Istanbul (and Athens too) another time.
Until then, we'll cherish all the memories we have gathered.