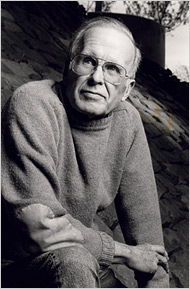 John Warner Backus, the creator of FORTRAN, the first high level programming language, died on Saturday at the age of 82.
He was also known as the inventor of the Backus–Naur form (BNF) which "is widely used as a notation for the grammars of computer programming languages, instruction sets and communication protocols, as well as a notation for representing parts of natural language grammars"
When he won the ACM Turing Award in 1977, his speech was on liberating programming from the imperative style. Many people (perhaps wrongly) understood this as a glorification of Functional Programming. (As you know, I am a big fan of FP and I really believe that Computer Science students should really play with Scheme, LISP and Haskell)
RIP.
(Photo courtesy of New York Times)