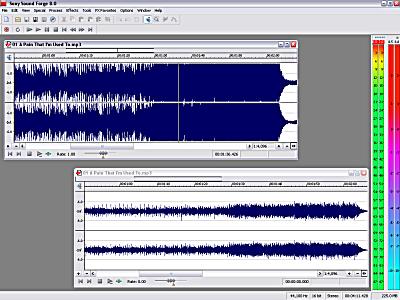 I am a massive fan of Depeche Mode. And I really like the latest album, Playing the Angel, as I said previously.
But I am very disappointed by what Depeche Mode did to me (and more generally to us all): the CD version of Playing the Angel is basically crap! The sound quality is horrible. This is the first song for instance (A Pain that I'm Used To):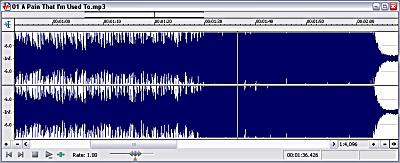 The left part is the bridge and the right part is the chorus (or more precisely a square wave mimicking the chorus). The audio is 100% clipped. Witness the VU-meter while the chorus is playing:
Everything is maxed out!!! The peak level is 0dB (on the left) as is the average level (on the right). Hence, the dynamics of the chorus is (a completely pathetic) 0dB!!!

For those of you who are not too conversant with audio and music, dynamics is what makes music interesting. The average level of music must be much lower than the peak level i.e. music must be most of the time soft but sometimes should become very loud. It must not be loud from start to end or else it will sound unnatural and your ears will feel some discomfort.

Now, what is important to understand is that the original master for that track sounds much better. Only the CD version (which has been further processed) suffers from this Loudness War (this is another detailed explanation with lots of concrete examples). What is happening is classic : people now buy CDs from supermarkets and the only way to impress them is to make the CD as hot (i.e. loud) as possible. To do that, the average level must be raised up to 0dB. The sound becomes impressive (i.e. over the top) but unlistenable in the long run (try it!)
So, what do we do? Forget about Playing the Angel?
If you have bought the "normal" CD then you don't have any choice. Listen to the crap sound!
But for those who have the limited edition of the album, you have luck (is it?) on your side : the DVD contains an uncompressed (read brillant) version of the album. Extract the Dolby Digital tracks (i.e. AC3) using a DVD ripper (I've use an old version of DVD Decrypter). Use BeSweet to downmix the 5.1 mix to stereo and convert it to a good-sounding MP3. I've used the following command line parameters:

besweet -core( -input file.ac3 -output file.mp3 ) -lame( -b 192 --resample 44.1 )

And here's the result: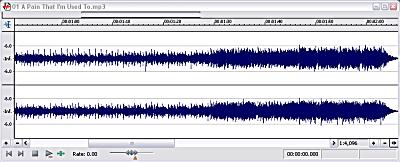 A perfect sounding MP3 of A Pain that I'm Used To!