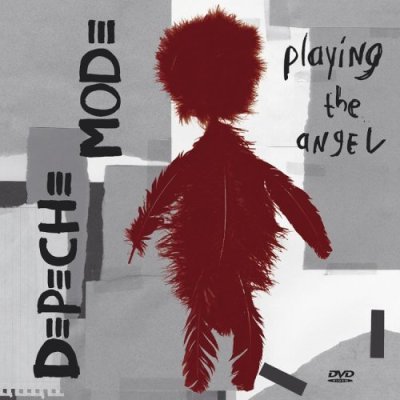 For those who don't know, I am a die-hard fan of Depeche Mode. I have all their albums. And many singles. And books etc. etc.
Depeche Mode is IMHO the best music band in existence. Their music is fantastic and the lyrics are very evocative for me…
As read on allmusic, "[o]riginally a product of Britain's new romantic movement, Depeche Mode went on to become the quintessential electro-pop band of the 1980s; one of the first acts to establish a musical identity based completely around the use of synthesizers, the group began their existence as a bouncy dance-pop outfit but gradually developed a darker, more dramatic sound which ultimately positioned them as one of the most successful alternative bands of their era."
Their new album, Playing the Angel, was released on the 18th of October and I've been patiently waiting for it to become available in Mauritius even though my brother had downloaded the tracks from some dubious MP3 sites one day after the launch.
And, I've bought it today!!! I paid Rs. 775 (about $25) which is perfectly ok as the album is currently being sold by Amazon at $20.99
By the way, I've bought the Limited Edition album comprising:
A hybrid Super Audio CD containing:

one layer in Direct Stream Digital (DSD) format (which has a frequency response of over 100kHz and a dynamic range over 120dB across the audible frequency range) but which I can't listen to as I do not have a SACD-capable player
one layer in normal 44.1 KHz 16-bit Audio CD format

A DVD containing:

The complete album in DTS and Dolby Digital 5.1 format (yes!!! the album has been mixed in full surround which sounds coming from the front, from the sides and from the back — it's awesome!)
A short featured film "Making The Angel"
An acoustic version (audio+video) of "Clean" (from Violator)
The video of "Precious", one of the best songs of the album
Today, I've listened to the whole album in 5.1 DTS and I'm very very impressed by the quality of the songs (and, obviously, by the quality of the sound)
Here is the track listing:
A Pain That I'm Used To
John The Revelator
Suffer Well
The Sinner In Me
Precious
Macro
I Want It All
Nothing's Impossible
Introspectre
Damaged People
Lilian
The Darkest Star
Everyone has been raving about this album and now I understand why. In short, all the songs are fantastic. Listen to the album at least twice (like most Depeche Mode albums, it gets better and better and better with time). Read the lyrics while listening. You will be impressed by the songwriting!
Playing the Angel is a revelation!