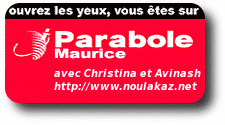 Here is today's top pick:
La cité de Dieu (Cidade de Deus)
Parabole Maurice – TPS Star – 3:55
2002. By Fernando Meirelles & Kátia Lund. With Alexandre Rodrigues, Leandro Firmino…
Rated 8.8/10 at IMDB: "Two boys growing up in a violent neighborhood of Rio de Janeiro take different paths: one becomes a photographer, the other a drug dealer."
According to some people, it's one of the best films you'll ever see!