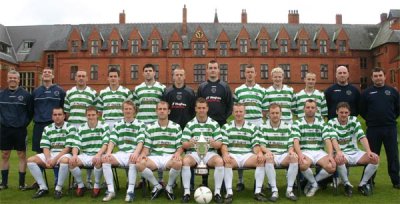 As you all know, Liverpool will play against TNS, the Welsh Premier champion, this coming Wednesday at Anfield for the 1st qualifying round of the UEFA Champions League.
And we all know that Liverpool, normally, will win both legs and qualify for the 2nd round at the expense of TNS. In case you don't already know, TNS have put an advert on the Internet (according to the Mirror) which reads as follows:
"Are you a good footballer with the ability and experience to play on the European stage? Are you a player out of contract disheartened with your current skills being overlooked? Then we want to hear from you. […]"
In spite of this, the TNS players and the fans have been admirable (and TNS is now my 2nd British team…). Just check those quotes:
"Like a lot of the lads at TNS, I support Liverpool. This is the biggest game I've played in and the thought of playing Liverpool makes the hairs on the back of your neck stick up." [Marc Lloyd Williams – TNS Striker]
Respect to you, Marc!
"To walk out alongside Steven Gerrard would top off my career, and it would be great to get his shirt afterwards as a souvenir." [John Leah – TNS captain and midfielder]
Respect to you, John!
"lets be real there guna play 4-5-1, jus like against city, there only playing 3-4-3 to "try" and fool the liverpool scouts lol.. like it matters." [Adrian Ward – TNS Fan]
"we don't really have a chance at all. As I see it, we can just hope to score at least one goal. I think we could scrape a draw in one of the legs, but realistically there is no way that we can win the tie at all." [Tom Leather – TNS Fan]
Respect to you, Adrian & Tom!
And, finally, a poll on TNS' forum by Rob James, another TNS fan:
What does every 1 think the scoreline will be in this David vs. Goliath encounter then?
Liverpool by more than 10 (over 2 legs) – 9%
Liverpool by less than 10 but more than 5 (over 2 legs) – 36%
Liverpool by less than 5 (over 2 legs) – 27%
TNS to win! (you never know!!!) – 27%
Fantastic!