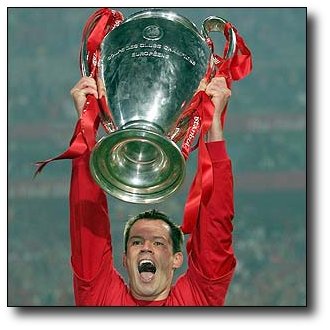 Today, UEFA has confirmed that Liverpool has been granted the right the participate in next year's Champions League… but we'll have to do it the hard way as we will begin at the very start, the 1st Qualifying Round!
For those who don't know a lot about the Champions League, the 1st Qualifying Round normally consists of the league champions of the 20 weakest countries in Europe (a quote from my own page on last year's 1st QR)
Basically this means that Liverpool will play against one of, hold your breath, Rabotnicki Skopje (Macedonia), Dinamo Minsk (Belarus), Sliema Wanderers (Malta), Pyunik Yerevan (Armenia), SK Tirana (Albania), Levadia Tallinn (Estonia), Glentoran (Northern Ireland), Total Network Solutions (Wales), F91 Dudelange (Luxembourg), Neftchi Baku (Azerbaijan), HB Torshavn (Faroe Islands) or Kairat Almaty (Kazhakstan) on 12-13 and 19-20 July.
Reflecting deeply about this situation, I am in between two minds:
Sh*t!!! The title holders need to play against such lowly teams and forgo a very lucrative trip to Japan :-(
Great!!! The title holders need to play competitive matches very early and reach full fitness quicker that the other English clubs for the definitive battle of Britain (yes, the Premiership) :-)
And, frankly, I find assertion No 2 much more beneficial for us.
We'll win the Premiership thanks to UEFA :-)
24/6/2004 Update : Liverpool will play Total Network Solutions (Wales) in the first round with the first match at Anfield and, if we qualify, we will play either HB Torshavn (Faroe Islands) or FBK Kaunas (Lithuania) in the second round…
(Image courtesy of the BBC)