Web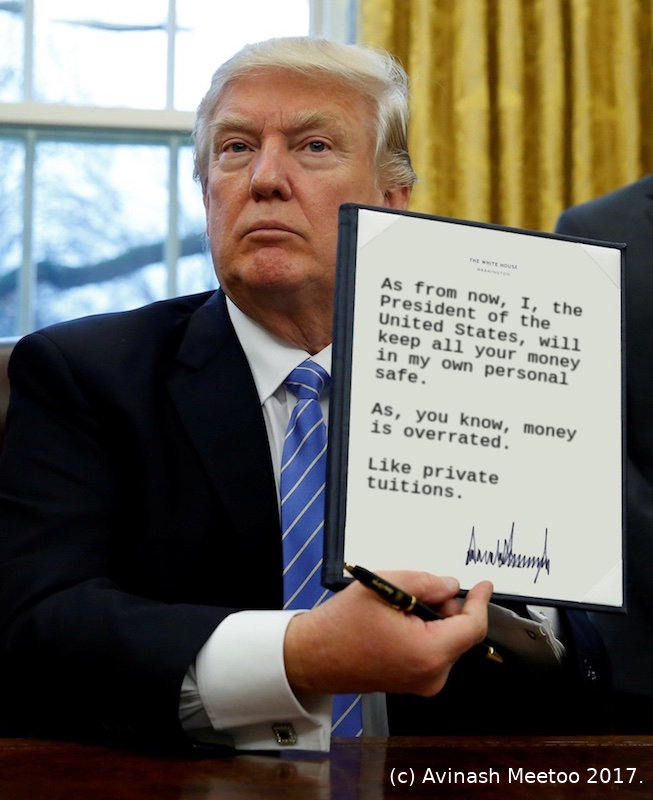 You can make Trump promote your sarcastic executive orders too :-)
Here are some songs which I absolutely loved when I was a kid in the 80s:
Here is the list of tracks:
1981 Depeche Mode – Photographic
1981 Queen – Under Pressure
1981 Soft Cell – Tainted Love
1981 Talking Heads – Once In A Lifetime
1981 The Human League – Don't You Want Me
1982 Duran Duran – Rio
1982 Madness – Our House
1983 Frankie Goes To Hollywood – Relax
1983 Heaven 17 – Temptation
1983 Kraftwerk – Tour De France
1983 Michael Jackson – Billie Jean
1983 New Order – Blue Monday
1983 Van Halen – Jump
1984 Dead Or Alive – You Spin Me Round (Like a Record)
1985 OMD – Secret
1985 Simple Minds – Don't You (Forget About Me)
1986 RUN-DMC – Walk This Way
1987 Eric B. & Rakim – Paid In Full
1987 INXS – Need You Tonight
1987 M.A.R.R.S. – Pump Up The Volume
1987 Pet Shop Boys – What Have I Done to Deserve This?
1987 The Cure – Just Like Heaven
1987 U2 – With Or Without You
1988 Bomb The Bass – Beat Dis
1988 Erasure – A Little Respect
1988 Neneh Cherry – Buffalo Stance
1988 S-Express – Theme from S-Express
1989 Madonna – Like A Prayer
1989 Soul II Soul – Back To Life
1989 Depeche Mode – Personal Jesus
As you can see, I was (and I still am) a fan of electronic music.
At the beginning of the 80s, Italians created a new genre of music, Italo Disco, and unleashed to the world hits such as Tarzan Boy and Comanchero:
A few years later, people from England invented Acid and the rest is history:
Enjoy :-)
Kyan plays music really well now and, as you know, I can manage too. Anya and Christina sing really well. So, in the same spirit as DMK (but with older kids), we, the Noulakaz family, would like to create a family band.
We have been practicing a bit this morning and it isn't half bad.
Watch this space!