I am seriously considering purchasing the Panasonic DP-UB820 4K Blu-Ray player. It is a five years old device and is one of the last 4K Blu-Ray players still being sold.
It supports Ultra UD 4K Blu-Ray, normal Full HD Blu-Ray, DVD and CD media. It also supports all modern immersive audio formats (such as Dolby Atmos) and high dynamic range video formats (HDR, HDR10, HDR10+ and Dolby Vision).
It's not easily available in Mauritius and, maybe, I'll have to ask someone from abroad to get one for me but I am keen because I do have a few Blu-Rays, loads of DVDs and many CDs (dating from my university days) and, currently, I do not have any device with a HDMI output to play them.
People have moved to streaming on platforms such as Netflix, Disney+, Apple TV+ or Showmax and Blu-Ray players will soon stop being made.
My previous DVD players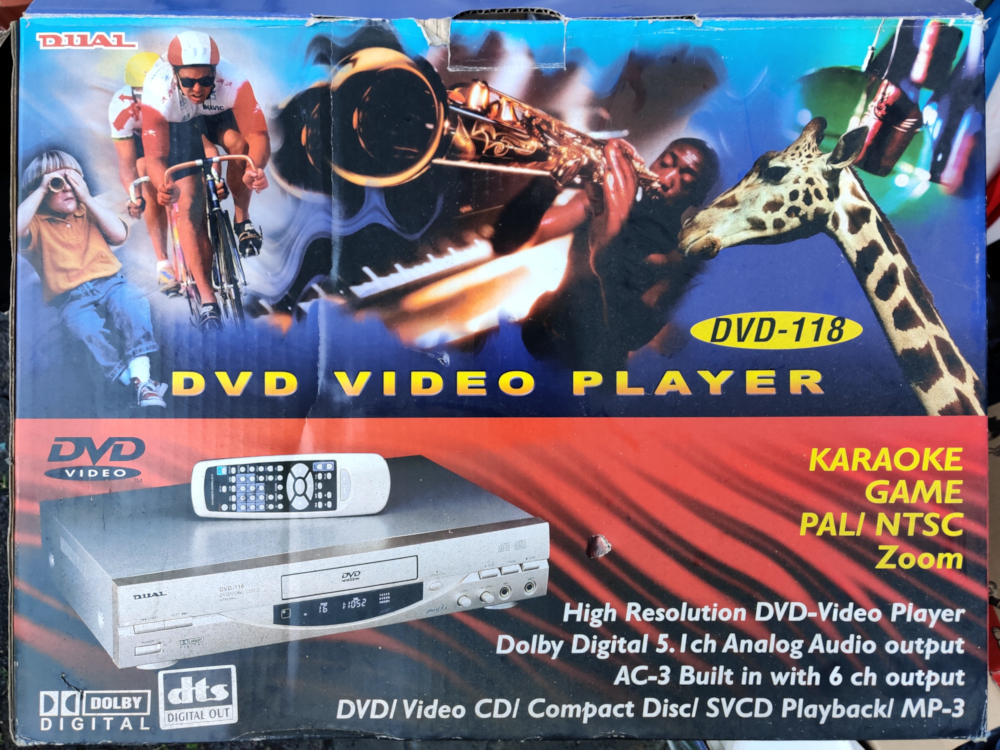 I didn't have a DVD player initially. When my parents left Mauritius, they gave me theirs: a cheap device from China, a Dual DVD-118. Everything about it was bad but it worked and I used it for a few years. This was around year 2000.
In 2004, we purchased a Philips DVD-727K DVD player. By that time, I had started creating my own CDs and DVDs (with videos of Anya and Kyan) and I needed a device which could read different types of media (CD, CD-R, CD-RW, DVD, DVD-R, DVD-RW, DVD+R and DVD+RW). Interestingly, I would give the player to my sister-in-law a few years later but would get it back when I needed a CD transport for my bedroom…
Around 2006, I purchased the LG RH7823W DVD and HDD player and writer. It was an interesting device as it could be used to record live TV programmes on its 80Gb hard disk and, later, burn the (edited) programmes to a DVD. From that time, I have many DVD-R of programmes and movies I got from MBC, Canal Satellite and Parabole Maurice. I don't really care about the movies anymore as I can easily get them online now but I do care about some of the programmes I have recorded. Some of them feature the four of us or are of historical importance. I still have the LG at home and it still works. I don't use it anymore as it lacks a HDMI out and it has a very noisy fan.
In 2009, we purchased a Sony Playstation 3 and our first LCD TV, a Sony KLV-40S550A. We wanted to play games, we wanted to discover the joys of Full HD Blu-Ray and I personally wanted to run Linux on it. We really loved the PS3 as it was way better than anything else we had had before.
The PS3 broke down in 2017 and we immediately replaced it with a second-hand super slim PS3. I didn't want to purchase a PS4 (and, later, a PS5) because we are far from being power gamers and the investment (especially when purchasing games) was too high.
Recently, this PS3 has just stopped working. I suspect a power supply issue. Writing this blog post has made me realise that it might still be possible to repair it and solve my Blu-Ray, DVD and CD issues without having to buy anything new.
We'll see.